Utah is already famous for the very unique "Utah Curl" hairstyle. Since people are quickly jumping on the Utah aesthetic train, did you know that there is also such a thing as Utah Girl makeup? If you want to steal the Utah Girl style, let's jump into what this makeup looks like and how you can easily achieve it too!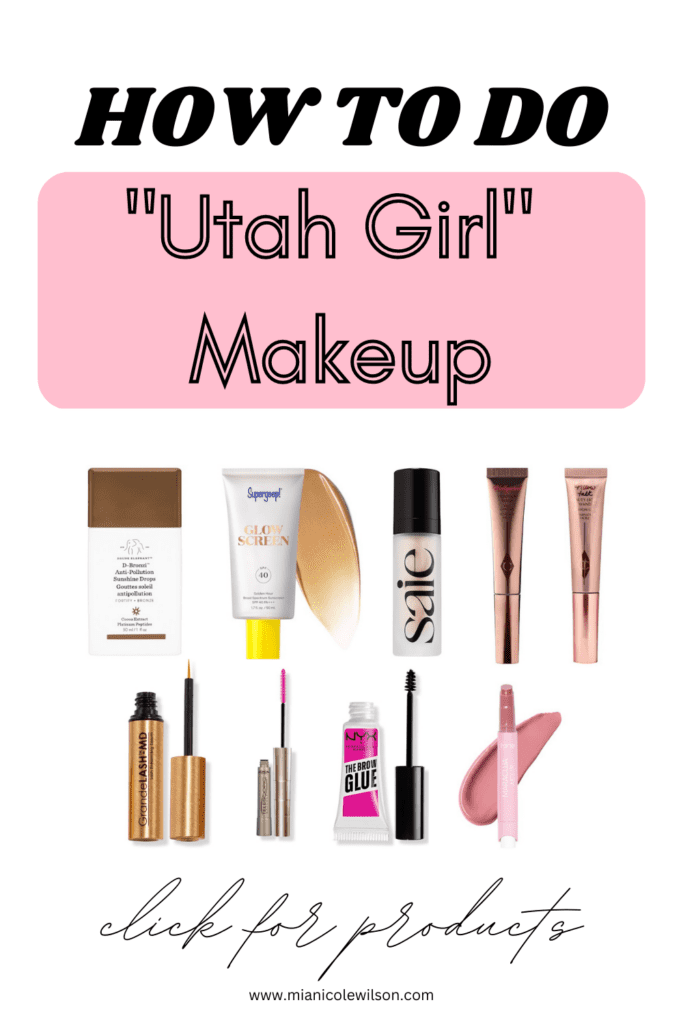 Disclosure: This blog post contains affiliate links, which means I make a small commission on a purchase without an additional cost to you if you buy something through the link.
What Is Utah Girl Makeup?
I see many Utah influencers sporting this same makeup look, and I feel like no one talks about this style! To me, this look is very minimal makeup-wise. I feel like it borrows from the "clean girl" aesthetic but with a big emphasis on enhancing features like the eyes and brows.
At first glance, it looks very natural, with dewy skin & lots of blush. Laminated, bold brows and very long lashes (most likely extensions) are also a must. Then, the look is finished with a naturally colored lip.
Here are a few makeup videos by Utah creators demonstrating this specific Utah Aesthetic look.
Utah Girl Makeup Products
If you want to try out this very natural look for yourself, here are some staple makeup products you'll want to snag!
Sunscreen/Foundation

Concealer

Contour & Blush

DIY Extensions/Mascara
Lash extensions are a must! These DIY extensions from Kiss are a great way to get the look for less.

DIY Eyebrow Lamination

Eyebrow Gel

Highlighter

Lip Product

I feel like everyone in Utah is so beautiful! This natural makeup makes them look even more perfect.
After you are done with your makeup, don't forget to do your Utah Girl Hair to complete everything!
Best, Mia