Disclosure: This blog post contains affiliate links, which means I make a small commission on a purchase without an additional cost to you if you buy something through the link.
It's no surprise that the Olaplex brand is a go-to for haircare lovers. Ask any beauty blogger/influencer, and you'll find it's often their secret weapon to repair dry, damaged, & frizzy hair! The only drawback is the price… for those on a budget, you'll spend at least $30 a piece on a small bottle of shampoo, conditioner, and hair oil (just to name a few products). What if there was a better option? Fortunately, there are 10 Olaplex dupes that I've found that will save you money all while giving you the soft and healthy hair you want!
Best Olaplex Dupes
What Is A Dupe For Olaplex Shampoo and Conditioner? Here are some under $15 options you can get from Ulta, Target, or Sally's:
Olaplex Shampoo and Conditioner Dupes

This penetrates the hair fiber to repair and fortify your locks. It does all this for around $9 each!

Bondbar is Sally's version of Olaplex. You can also order it from Amazon for convenience. They will cost you ~ $10 each.

The Revolution Makeup brand has such great dupes for everything! They make getting healthy hair affordable with it's Revolution Plex triple molecular weight protein cascade system that targets different layers of the hair fiber helping to restore and strengthen damage from within – all for $9.99 per bottle!
Psst…Check out Revolution's dupe for the Charlotte Tilbury Setting Spray here!
What Are Dupes for Olaplex No. 3 Treatments?
Here are some treatments that can be applied to the hair either before or after shampoo/conditioner depending on the product. You're on your way to a great affordable hair care routine!

This has gone viral on TikTok for good reason: this product is no more than $10 and can be ordered from Amazon. I love that this can be applied after using one of the shampoo/conditioner combinations mentioned above. Just apply it to wet or dry hair and go! You don't have to wash it out. It's a super easy, no hassle way to repair your hair.




Are There Dupes For Olaplex Bonding Oil?


Inkey List Spray
I'm going to touch on one of my favorite dupes for Olaplex No 3 separately here! This Olaplex dupe is the Inkey List Bond Repair & currently, you can get it from Inkey List or Sephora. This is what it looks like! It is $12 and is a 3.4 oz bottle. It has a spray nozzle, and to apply, spritz it all over freshly washed hair.

I love that you just spray it on and it will go to work – that's it! No waiting and washing it out like Olaplex. It works by "penetrating the hair fiber, targeting all three types of bonds to repair, strengthen, and defend against future damage."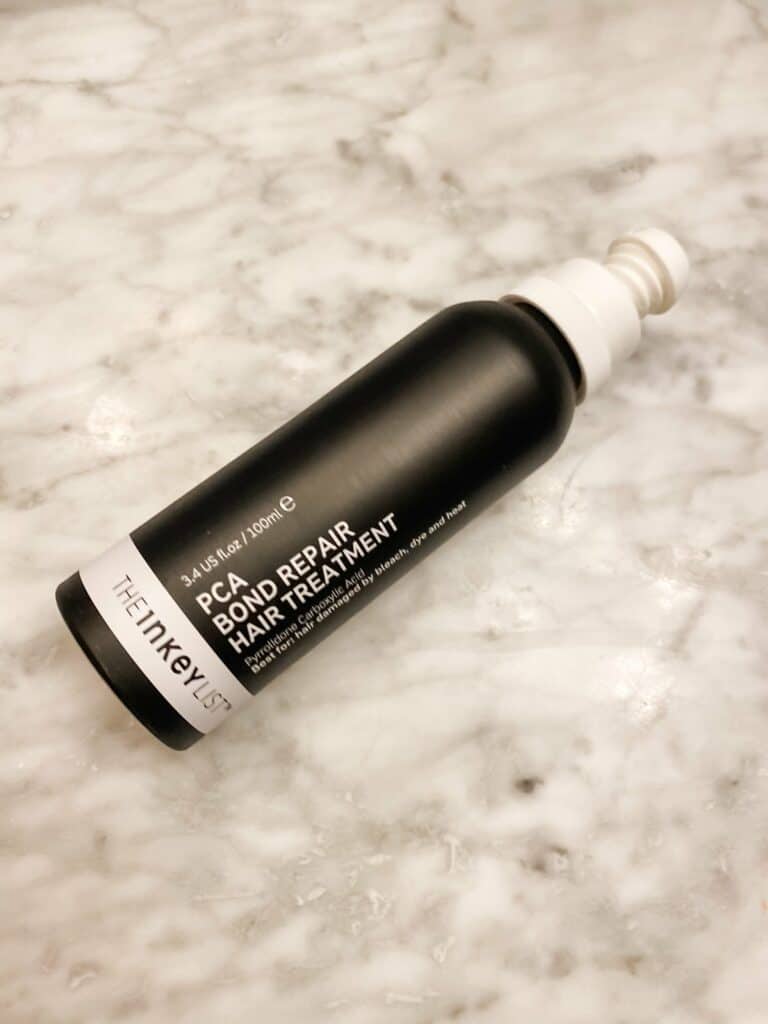 Inkey List PCA Bond Repair Ingredients
Highlighted Ingredients:
– Granrepair Powerbond 10%: A bond technology that repairs severely damaged hair due to dye and bleach use.
– Crodasone™ P 2%: Protects hair from thermal damage and splitting.
– Betaine 2%: Conditions hair, leaving it soft and healthy.
How To Use Inkey List PCA Bond Repair
If you have Straight, Wavy, Curly, or Coily hair, then this product will benefit you! It also works for all hair textures and concerns like dryness, dullness, and major damage.
You just shake up the bottle, and press the pump to spray into damp, towel-dried hair. Depending on your hair length and thickness, you will need between 4-10 pumps. That's it! No need to do anything else. As sson as your hair is dry, you will notice how much smoother and shinier it is! No more frizzy looking hair.
By comparison, the Olaplex No.3 process is time-consuming. You have to get the hair wet, and then apply it from the root to the tip of the hair and leave it for 10 minutes. Then, you must rinse it out, and shampoo and condition it after. Sometimes it is a hassle for me to do that haha!
With the Inkey List PCA Bond Repair, I love that you get great results with way less effort. I did notice that some reviews on the website mentioned that there were issues with the product clumping. I have not experienced that, but did want to throw it out there that it may happen. But honestly, considering the price point, it wouldn't be too bad to take a chance on!
Olaplex Dupe Before and After
My hair is way sleeker and less frizzy/coarse after using these products. I especially 10/10 recommend the Inkey List Spray due to the price and the ease of use.
Related: Shampoos Without DMDM Hydantoin – 7 Options To Avoid Hair Loss
Best, Mia
This content is for informational purposes only, and what has worked for me personally based on my own opinions. I am not a professional/medical doctor, and you should always consult your doctor or dermatologist on what will work best for you. The information presented here is not legitimate, official advice from a professional. If you choose to rely on any information from this blog, you do so at your own risk. Please refer to the "Blog Disclaimer" tab in the menu bar to read more information and the official disclaimer statement.