It's no secret that the Old Money aesthetic is very popular right now. Searches for the term have shot up in recent months on Pinterest. Over on TikTok, Sofia Richie has absolutely captivated everyone with her chic style, that no doubt checks all the boxes when it comes to describing the Old Money way of dressing. (Think cashmere sweaters, preppy style, the Kennedy's, "quiet luxury"…) If you're totally on board with this trend, here are the best old money swimsuits for summertime!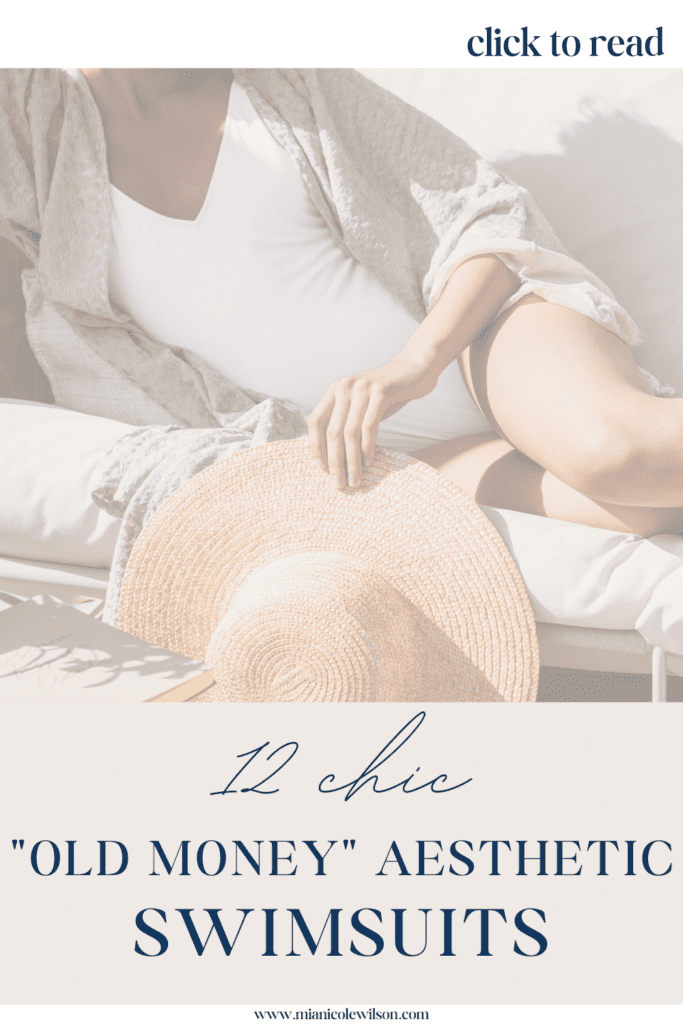 What Is The Old Money Aesthetic?
If you need a refresher:
Right now, we are hearing a lot of buzz around the "old money aesthetic", a niche way of dressing & presenting yourself especially on social media. It's the idea that those who have massive generational wealth behind their family name don't need to show it off – people just know. Instead, the jet set enjoy the simple pleasures of life without having to worry about getting noticed by others. This is why people who are part of this aesthetic tend to use simple designs and colors. They might also not wear very flashy clothing or accessories—instead opting for more understated, quality pieces like cashmere sweaters or leather jackets that aren't so showy that they draw attention away from the person wearing them.
Many are quick to point out that the old-money aesthetic can't really be achieved – it's something people are just born into. Still, it is fun to dress up in this way as you'll look timeless and polished.
The Best Old Money Style Swimsuits For Summer
Let's dive in!
Disclosure: This blog post contains affiliate links, which means I make a small commission on a purchase without an additional cost to you if you buy something through the link.
There is nothing more flattering than a halter neckline, especially if you have broader shoulders. The cross design is slimming, and the back has fuller coverage. This gorgeous style is currently on major sale right now as well!

This gorgeous swimsuit looks like it was made for a 50's starlet! Tie waist accents on the suit will also create a feminine hourglass figure.

Throw on this swimsuit, your Hermes sandals, and a sarong and you're ready for a relaxing day on your yacht!

You'll look like you're ready to spend the day on the French Riviera with this sleek black suit! Just add an oversized straw hat, and movie star black sunglasses and you're ready to go.

Scalloped necklines are super preppy and feminine. This suit boasts the fun design and is available in 3 colors! It's hard to choose a favorite!

Channel your inner Marilyn Monroe movie star in this very elegant and classy swimsuit silhouette.

Sign me up for anything with flutter sleeves! This darling swimsuit comes in 15 colorways too – there are solids, patterns, and color-block options to choose from.

I love that this preppy printed swimsuit comes with coordinating tops, bottoms, shorts, as well as a one piece!

Wow! I can't decide which is chicer: the cream or black and white swimsuit! In some styles, the bow is detachable which is a versatile feature. If you are a bride going on a beachy bachelorette party this one is calling your name!

The luxe satiny fabric, balconette bra, and fun chainlink detail really make this feminine bathing suit stand out.

Chic, and not too flashy!

This neckline is so beautiful, and covers everything for a very classy, elegant swimsuit to reach for. How beautiful would it be with some hoops, and a big floppy hat?

Want more Old Money fashion content? Check out these blog posts: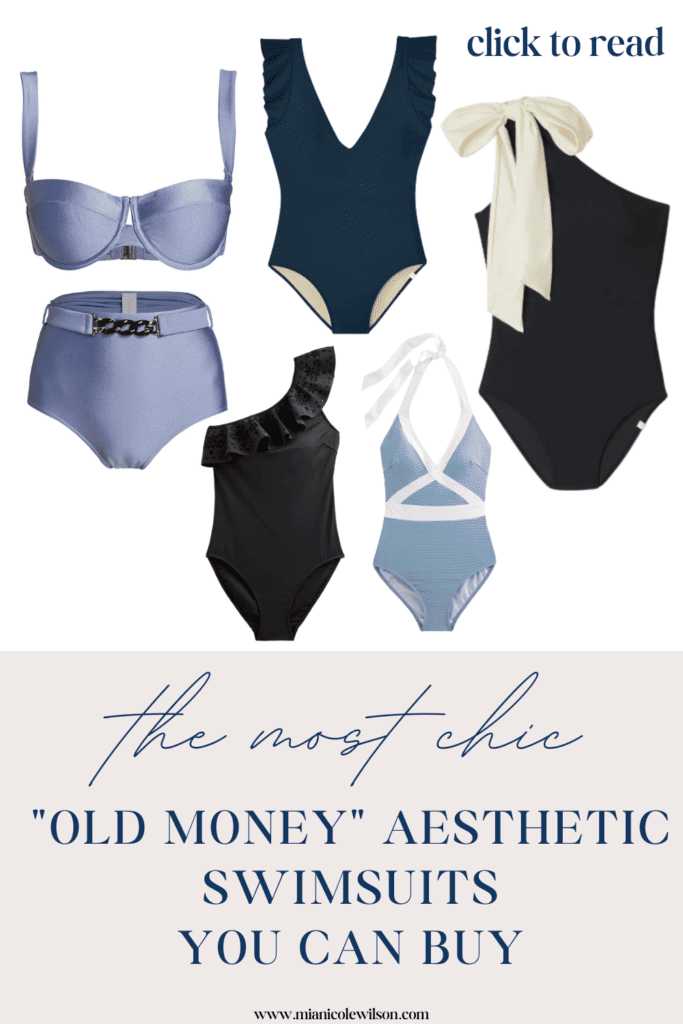 Best, Mia