Are you wanting to get out of your typical leggings and into outfits that feel chic but aren't too hard to pull together? If you're in need of a fashion revival, this guide has you covered! I'll lay out the 12 key pieces to get chic style – you just need to invest in a few great staples. These additions will instantly elevate your look, and work together to create lots of classic outfits. Ready for your chic style starter guide? Let's jump in!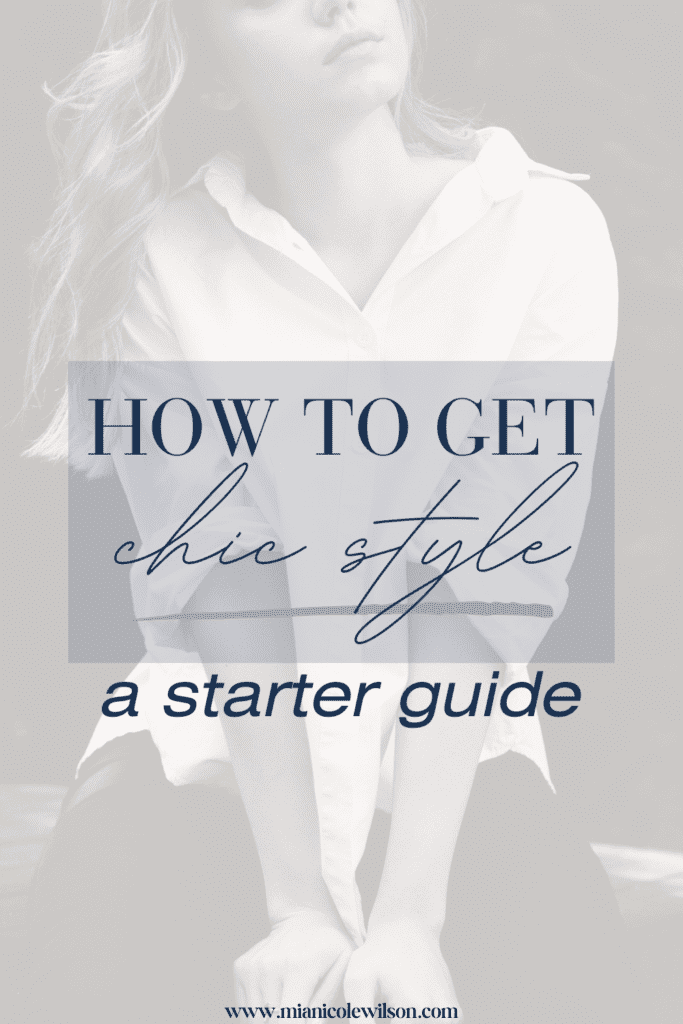 Disclosure: This blog post contains affiliate links.
How To Get Chic Style
Start by adding these 12 chic staples to your shopping cart. After you have them, it's so easy to mix and match! Scroll to the end for some complete outfit inspiration based on these picks.
But, to quickly summarize chic style here are some key points to remember:
Stick with neutral colors like black, beige, brown, white
Invest in quality pieces, wear less fast fashion
Choose classic, flattering silhouettes
Adhering to these rules will help you achieve the look you are after!
Typically, we think of "French Girl Style" when it comes to a chic look. "Coastal Grandmother" is another great aesthetic that feels very upscale and chic, just a bit preppier.
Staple Wardrobe Pieces To Buy For Chic Style
1. Linen Button Downs
Absolutely start with a black or white button down (preferably both). This shirt is effortlessly polished and so versatile. A linen fabrication is also important, as it's breathable for summertime weather. It also is temperature regulating, so you can wear it under a blazer in cooler weather without feeling stuffy. Overall, a linen button down is something that you will always feel great in! Not too casual, not too fancy. It is figure flattering without being tight and uncomfortable. Shop it here:

2. Perfect White Tee & Tank
If you don't have a go-to white tee and tank, opt for these picks! A classic plain white tee is great on its own and also serves as a layering option too.

3. Striped Cardigan
Stripes are chic! Having a cardigan on hand to wear on chillier days, and then to knot around the shoulders will instantly elevate the look by adding a pop of pattern into the mix.

4. Fitted Sweater
A sleek and fitted zip-up sweater is a more modern option than a baggy turtleneck.

5. Jeans & Denim Shorts
Everyone needs a great pair of jeans. A slim/straight leg (not skinny!) with a medium to light wash is preferred. For summer, denim shorts will also be a go-to. When choosing shorts, go for a longer inseam length that gives more coverage and a classier look. Select a quality pair of either bottom that is durable to handle worn multiple days of the week.

6. Black Trouser Pants
Wear these for work or a dinner out! The belt on these pants is the cherry on top. Tuck in a linen button-down or the white tank from above.

7. Slip Midi Dress
A midi slip dress in silky satin is an easy-to-throw-on option that works year round. Wear it as is in summer, and then with a cardigan or blazer in winter. Score it in black and you've got a flattering staple that will never go out of style!

8. Blazer

Now let's move on to the necessary accessories.
9. Ballet Flats
Ballet flats will always be chic no matter what anyone says. They can be worn with shorts, jeans, or a dress and should be a staple in your closet. They are super easy to reach for and throw on when in a rush!

10. Straw or Neutral Leather Bag
A big no-no for chic French ladies is to avoid large, flashy labels. They opt for more classic silhouettes and understated bags in neutral colors. Follow this advice and go for a straw bag in the spring and summer, and neutral leather bag for the rest of the year. It will always coordinate with your outfit and add the finishing touch.

11. Oversized Black Sunglasses
Oversized black sunglasses will always make you look like a glam movie star!

12. Gold Huggie Hoops
Staying sleek and low-key with jewelry is the name of the game. Instead of constantly buying new and trendy costume jewelry, invest in quality pieces that you can wear without worrying about tarnishing, or detracting from your look.

How To Mix and Match Chic Style Staples
Here are some outfit ideas based on the items linked above!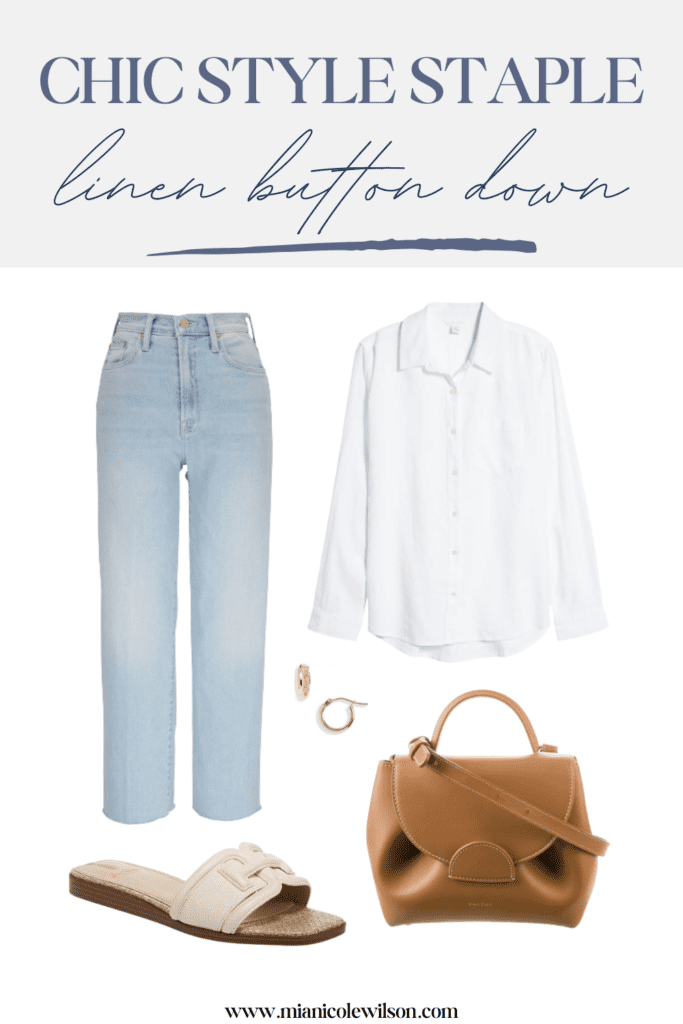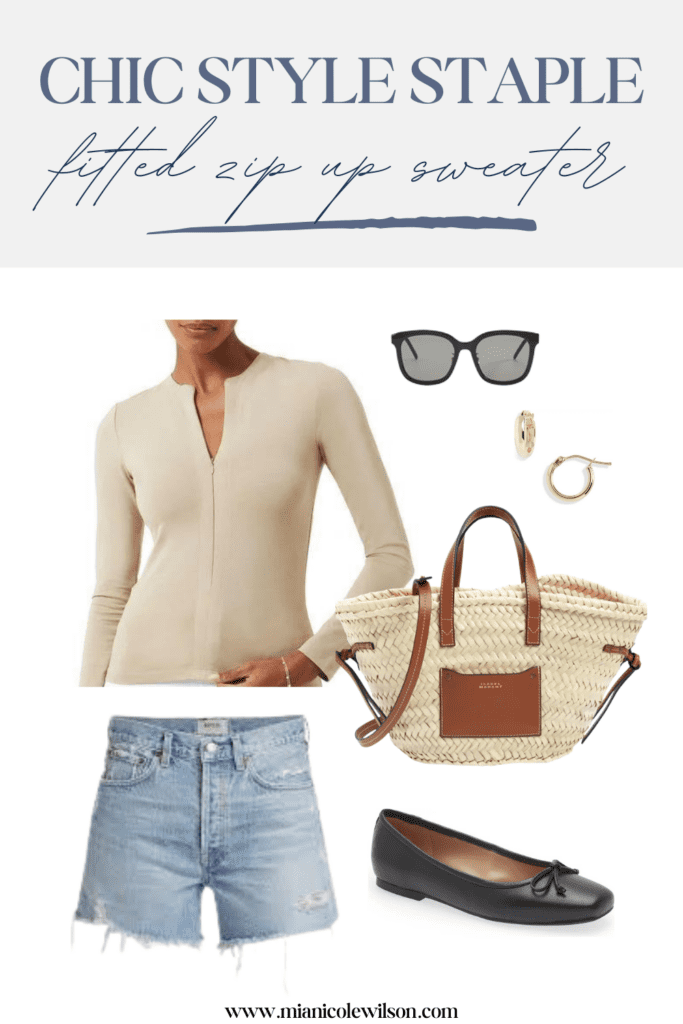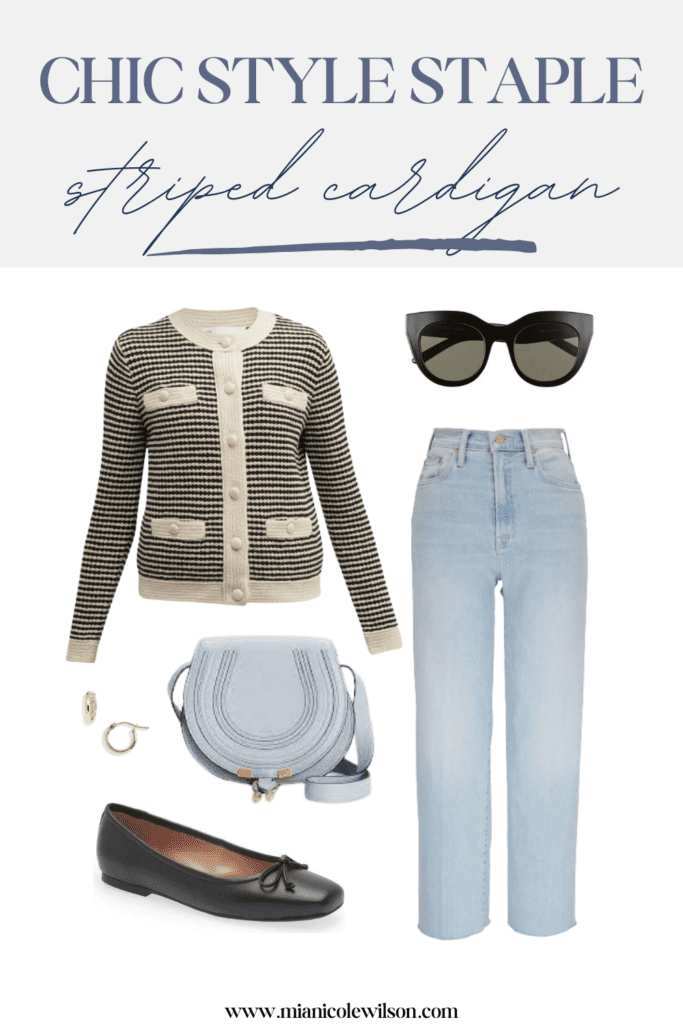 Want more chic content? Check out these blog posts:
Best, Mia