Move over, Coastal Grandmother! The Coastal Cowgirl aesthetic is majorly trending for 2023, and wooow! You will absolutely love this laid-back & beachy aesthetic for spring, summer, and beyond. Let's dive into more of the specifics of what Coastal Cowgirl is, as well as some staple pieces you will need to recreate this vibe!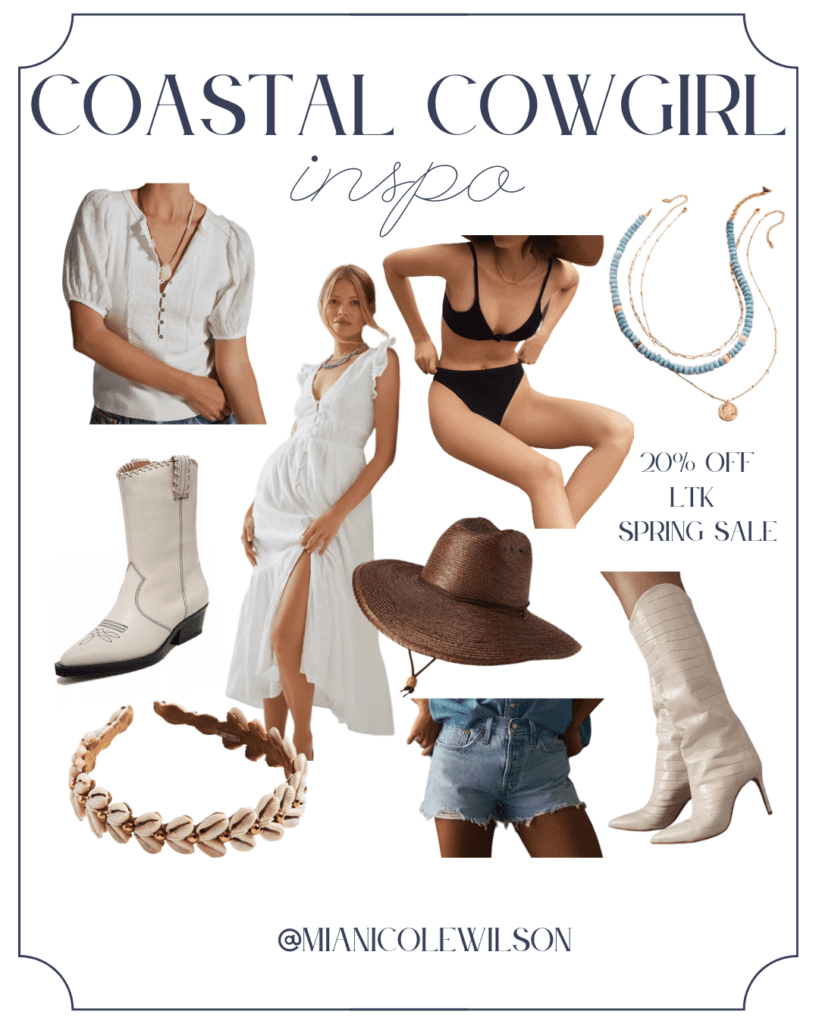 Disclosure: This blog post contains affiliate links, which means I make a small commission on a purchase without an additional cost to you if you buy something through the link.
What Is The Coastal Cowgirl Aesthetic?
We first were introduced to the "Coastal Grandmother" in early 2022 by TikToker Lex Nicoleta. This look was characterized by the chic, upscale styling of older ladies like Diane Keaton in the move Somethings Gotta Give and Martha Stewart. A Coastal Grandmother aesthetic fits in perfectly in places like the Hamptons, Nantucket, etc.
Coastal Cowgirl now takes that same neutral, beachy palette and gives it a bit more of a modern, young take. Picture oversized half-zip pullovers layered over a striped linen button-down for nights around a beach bonfire. But instead of polished pants and Hermes sandals, Coastal Cowgirl will add some light-wash cut-off denim shorts and lived-in Western boots.
You also don't have to live in Texas to take advantage of this trend! Western-style boots are huge right now and look great with jeans, shorts, dresses, and whatever else your heart desires.
An easy way to partake in the trend this summer is to pair a flirty, solid black bikini with your boots when going to the pool or beach. Layer an oversized breezy button-down over the outfit and don't forget your straw cowboy hat and puka shell necklace!
Let's move on to some inspiration pictures via Pinterest:
Coastal Cowgirl Inspiration Pictures
Coastal Cowgirl Staple Outfit Pieces
If you want to rock this aesthetic for summer and beyond, here are some items you must have in your wardrobe! The great part about all these items is that they are neutral staples, and can be dressed up or down easily.
(After you snag these staples, check out this blog post with 15 Coastal Cowgirl Inspiration Outfits You Can Easily Copy!)
Western Fashion Boots
This has the be the most important part of the look – western style boots are making a cool comeback, and they definitely will put the cowgirl in your coastal cowgirl aesthetic. Go for neutral colored boots that will go with everything in your closet. High quality, leather boots will last you a long time and aquire that worn in, weathered look. This makes them look effortlessly cool.

Straw Cowboy Hat
Another great factor in the coastal cowgirl aesthetic is to always have a hat handy! This will be especially important in the summer months. How great will your beach/pool outfit look with a classic black bikini and one of these hats to protect your face!

Cut Off Shorts
Any pair of denim, preferably light wash and distressed is what the coastal cowgirl lives in. Denim cut off shorts are no exception! They look so great with cowboy boots and are a necessity for summertime.

Linen Button Down
A linen button-down is something that every closet should have, no matter your style! It is so versatile and classic, and is multi-use. Opt for linen which is super breathable for every climate and warmer seasons.

Cream Oversized Half Zip

Neutral Graphic Tee
An oversized neutral tee thrown over cut off shorts and boots is the vibe! This is perfect for casual lunches, running errands, or even a night out at the rodeo.

White Cotton Dress

If you are in need of a dressier outfit, a fluttery white cotton dress has the airy, beachy, western vibe you want.
Puka Shell/Pearl Necklace

You can't forget about the shell necklace which is making a major comeback!
So, will you also be rocking the coastal cowgirl aesthetic this year? Don't forget to check out Pinterest or TikTok for many more inspirational outfit pictures/videos for your vision board!
Best, Mia