Do you love the English Cottage aesthetic? Here are 10 authentic examples of this charming style for you to recreate in your own home.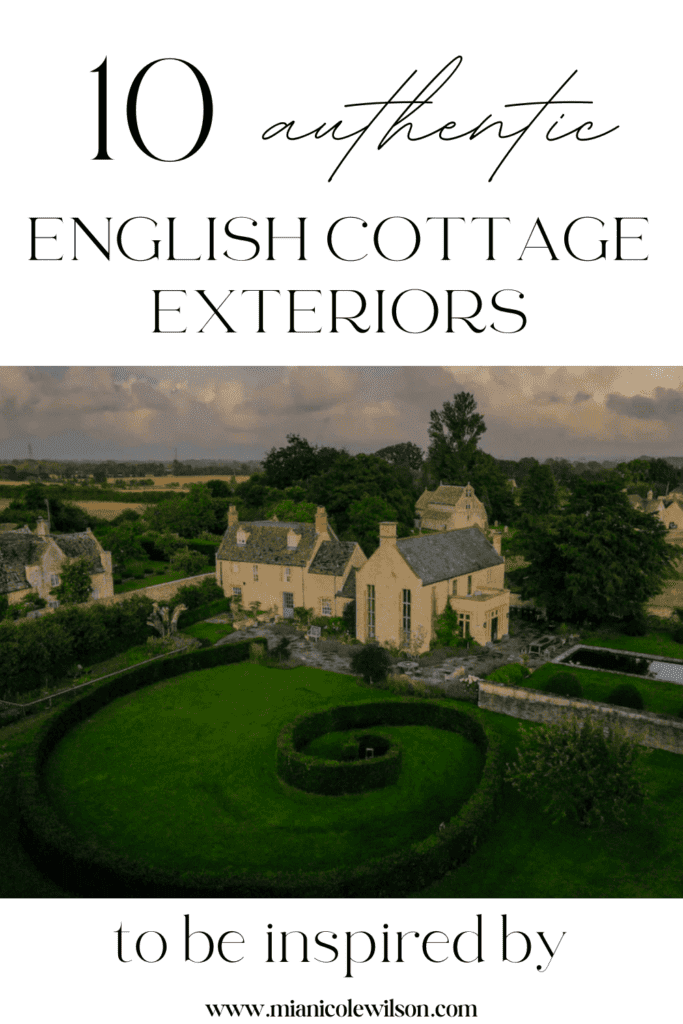 Real Life English Cottage Exteriors
Take a scroll through these gorgeous English cottage exteriors. Which one are you choosing for your dream home?
1. Beautifully Eclectic Cotswold Cabin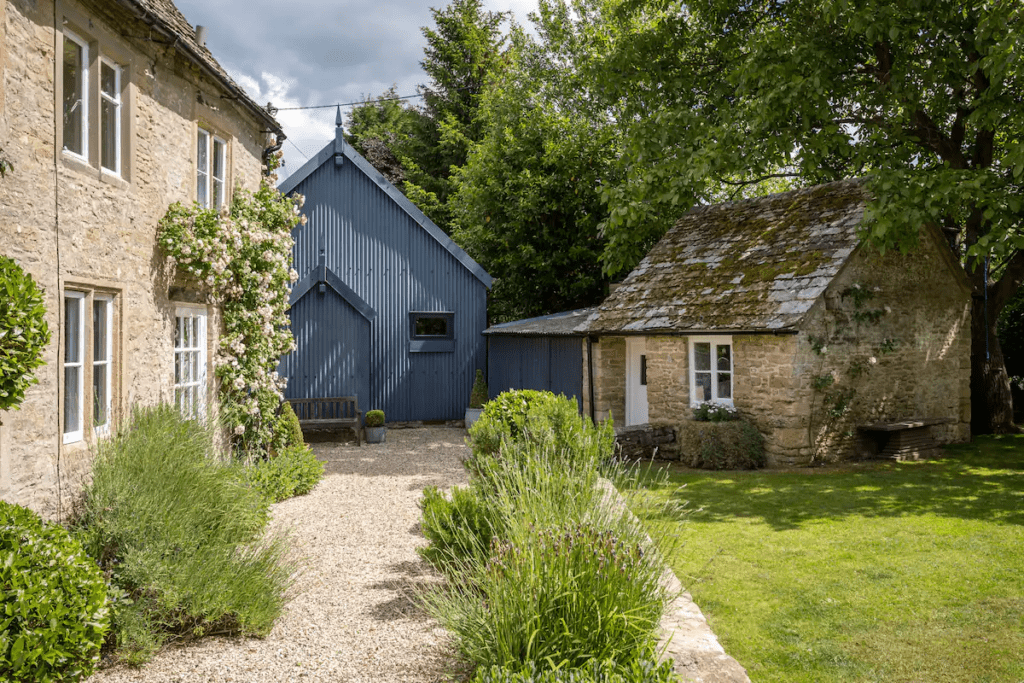 How jaw-dropping is this view? This property's exterior has everything you imagine an English cottage to have: from the weathered-looking stone, to the mossy roof tiles, and the contrast of lush green grass and gravel pathways. I'd love to take a seat on that bench under those beautiful climbing roses!
2. Large Cotswold Country Retreat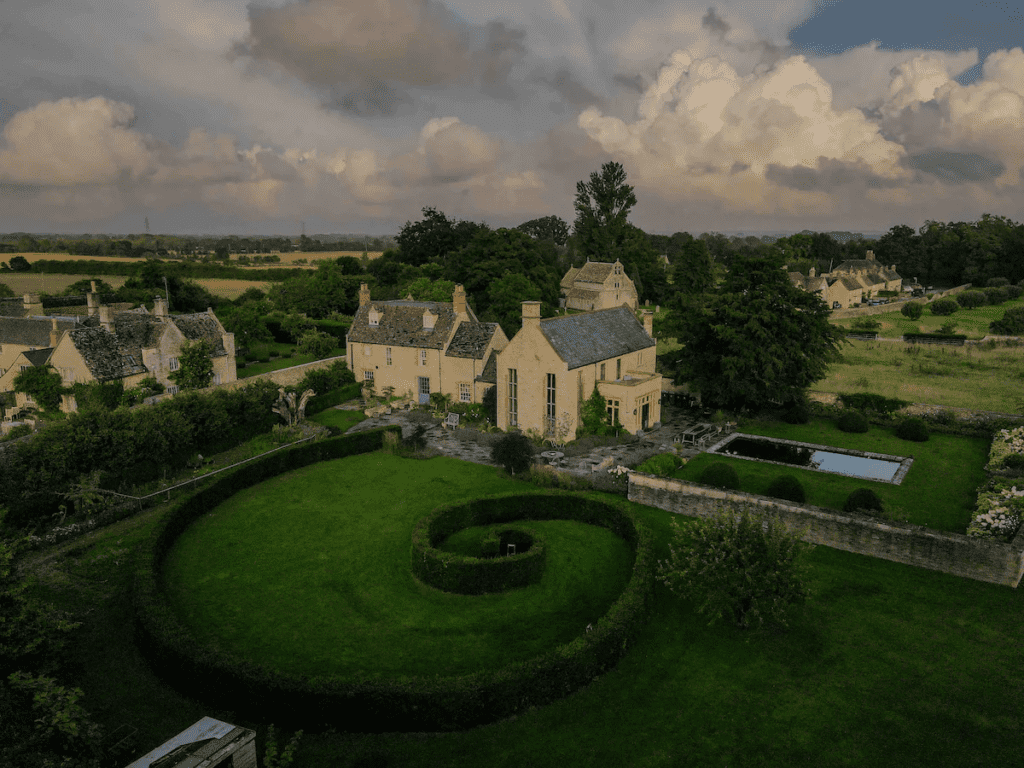 I would pack up and move to the Cotswolds in a heartbeat! This picturesque country retreat sits on beautiful green acreage. How impressive is the serene pond right outside the door and spiral hedge? I absolutely love the two-story windows that add so much light to the living room. Modern European house plans are very popular right now, and it's easy to see why – who wouldn't want to feast their eyes on this style of exterior everyday?
3. Mulberry Cottage, Painswick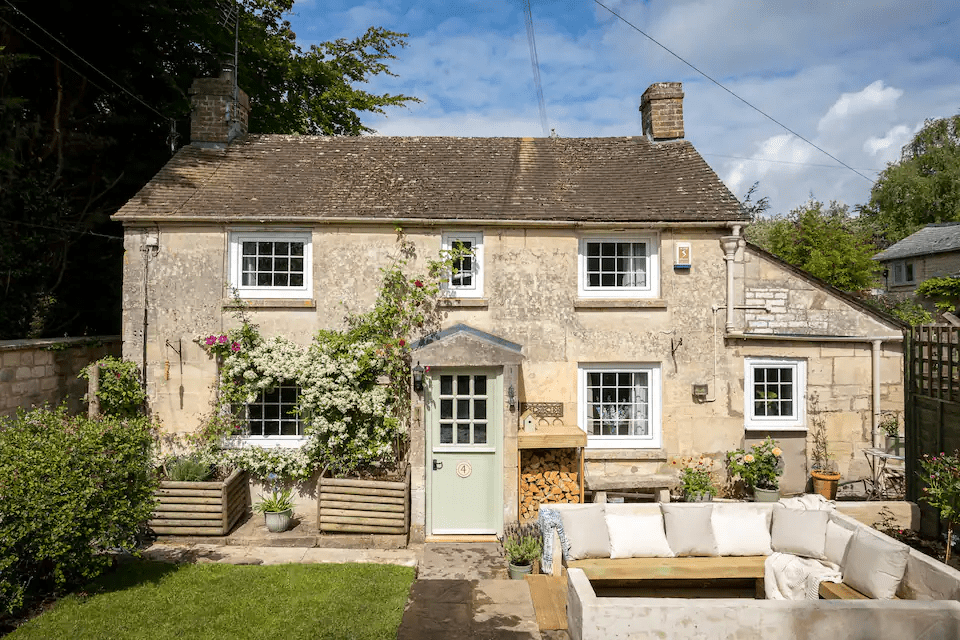 An English Cottage should always look cozy and charming, and this sweet home takes the cake! I swoon over the pale green door and cool seating out front.
4. Charming Cotswold Country Cottage & Garden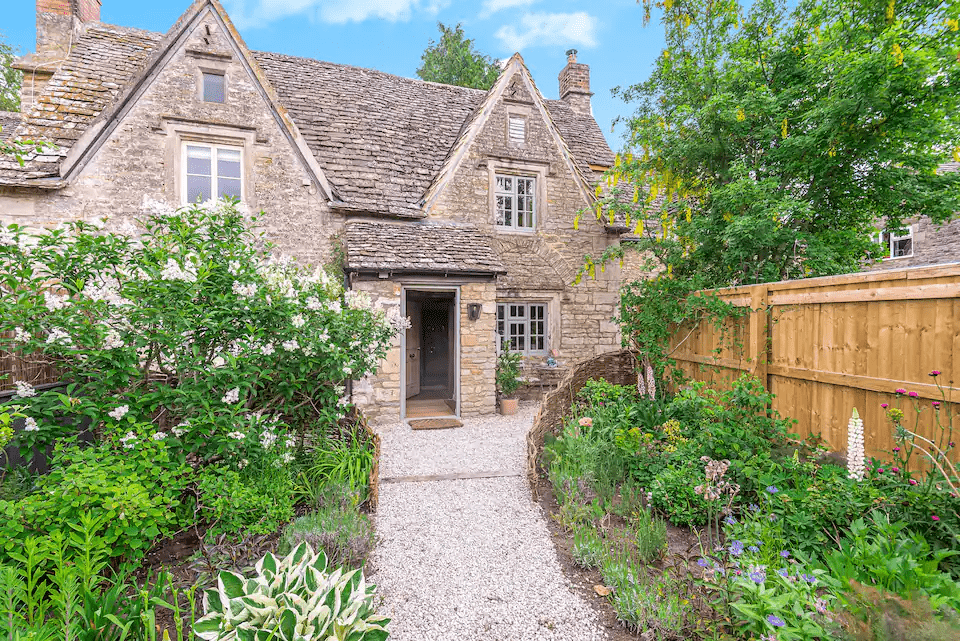 You can't have an English Cottage without a beautiful garden! It's like adding jewelry to the look to tie everything together. The dove gray trim with the stone is major inspiration for my dream home.
Related: 9 Best English Cottage Pendants To Light Up Your Kitchen
5. Converted Chapel In The Heart of the Cotswolds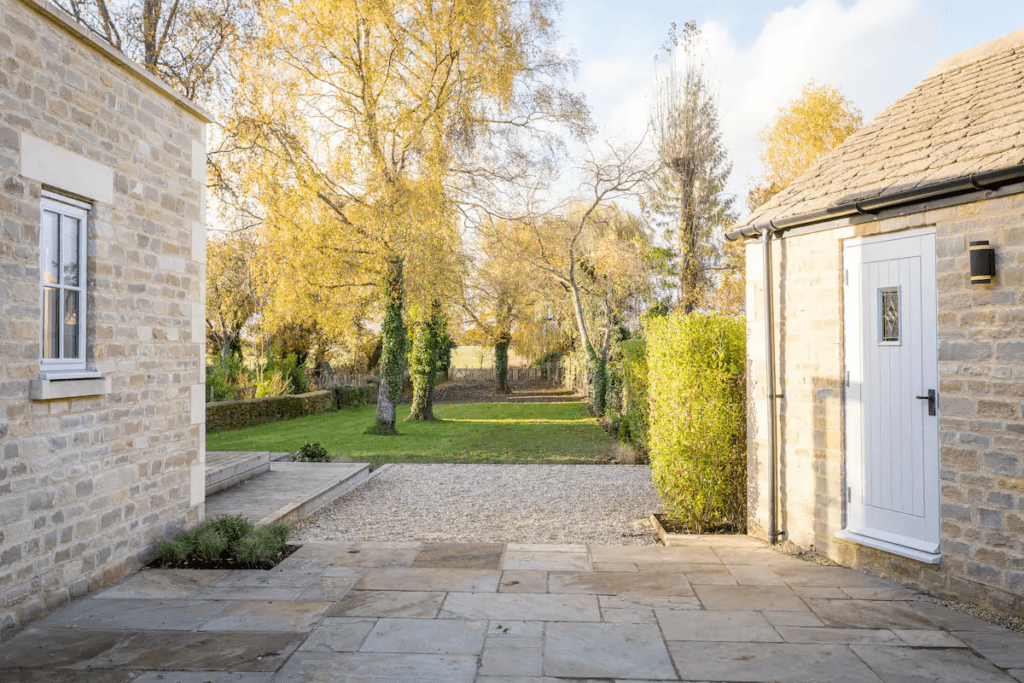 I'm taking a mental note to remember this beautiful stone layout for patio renovations. How pretty and interesting is the transition between stone, gravel, and grass in this yard?
6. Mini Mack House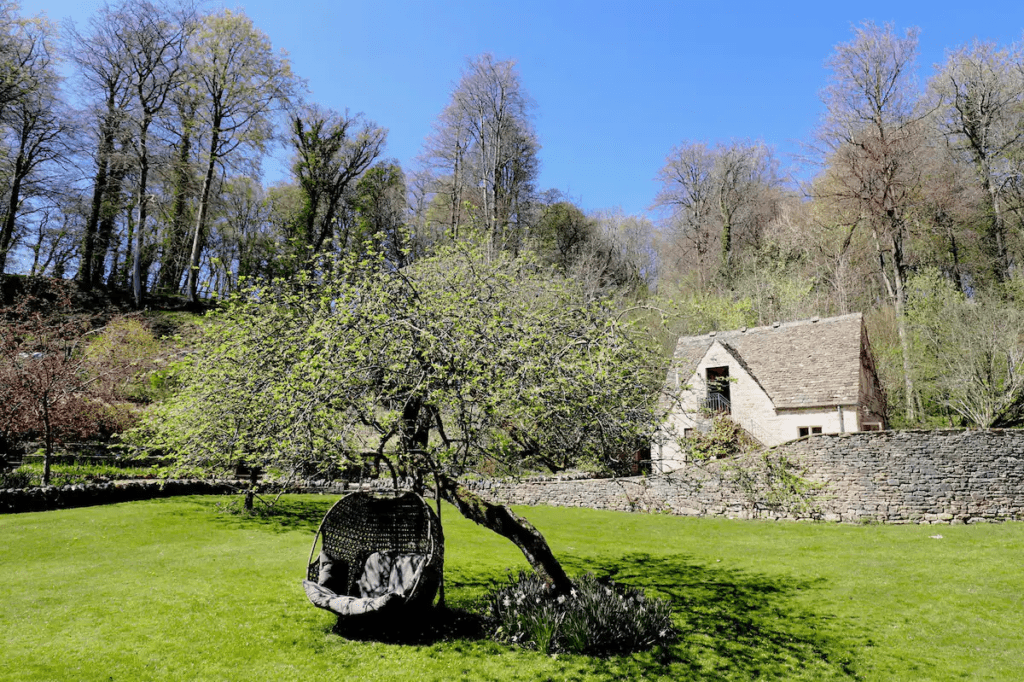 A yard full of beautiful green grass is a must when recreating the English Cottage aesthetic.
7. Fort View
Lots of English cottages have similar-looking stone and roof materials on the exterior. I love that people can really put their own touch on their house by choosing whatever trim color they want. The baby blue trim and doors on this house make it stand out!
8. Chapel Cottage, Chedworth, the Cotswolds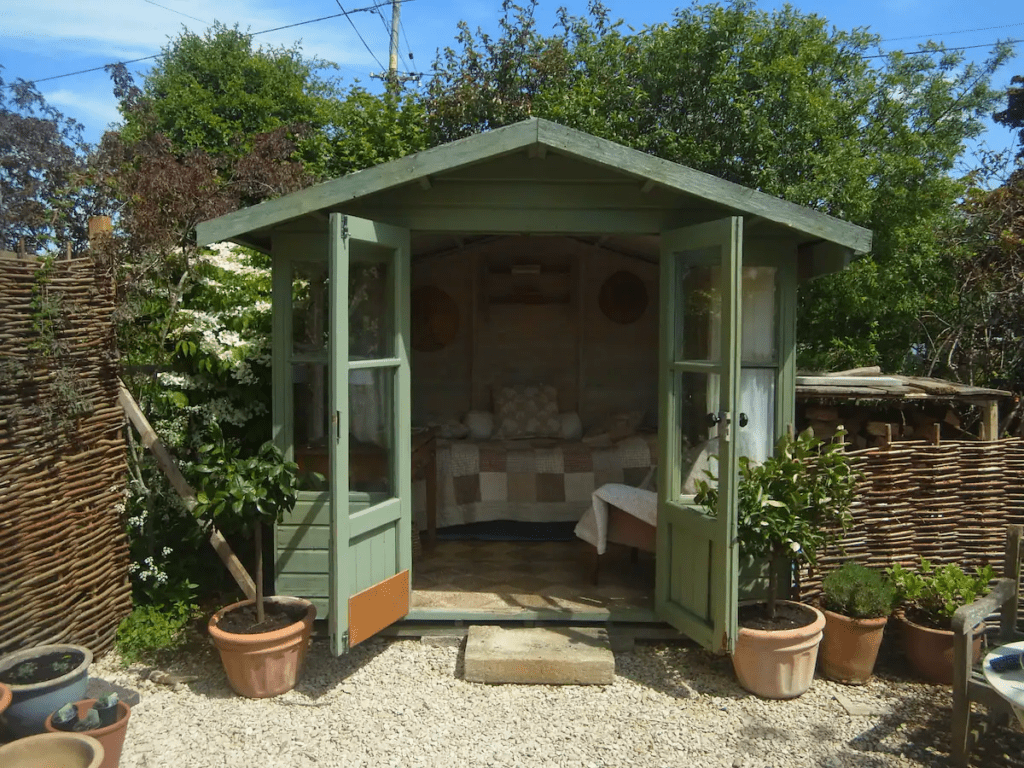 Every English cottage needs a pretty colored shed in its garden. I love the sage green of this option, and that it has a little daybed in it for relaxing. Note the pretty topiaries in terracotta planters.
9. Iconic 17th Century Thatched Cottage
Nothing screams English cottage more than a thatched roof!
10. Unique Private Slad Valley Contemporary Chic Barn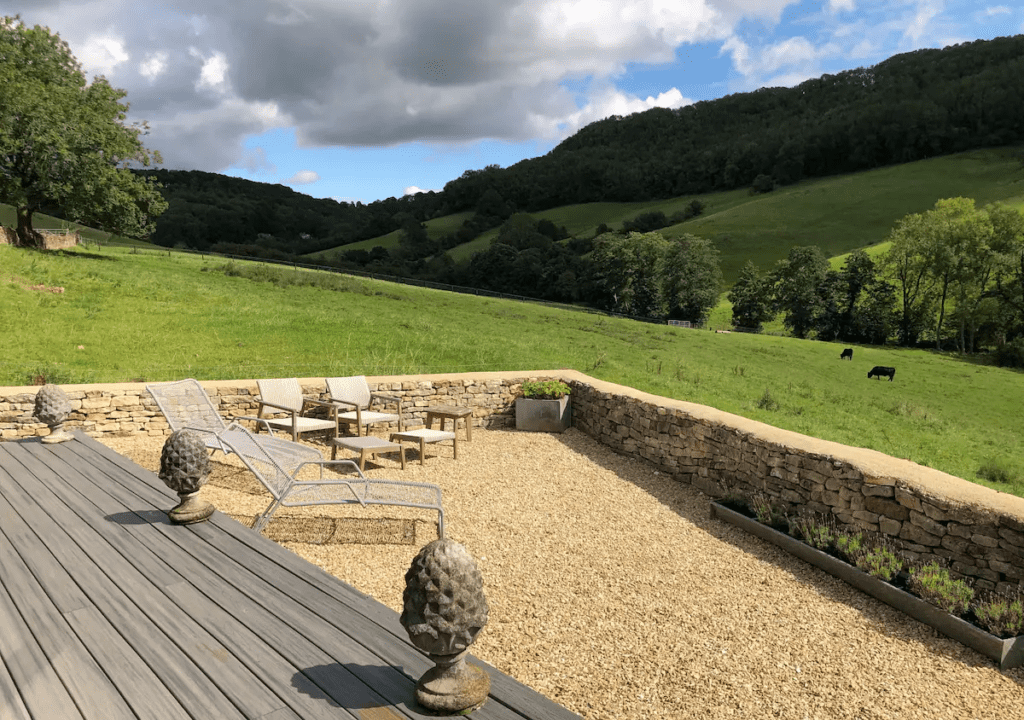 While not an exterior, I had to include this gorgeous photo. This house is a modern cottage, but the gravel garden totally gives it the classic English look. (Not to mention the beautiful rolling hills too!)
English Cottage Exterior Mock Up
Here is a mood board I created with all the materials you need to get the English Cottage look for your own home's exterior.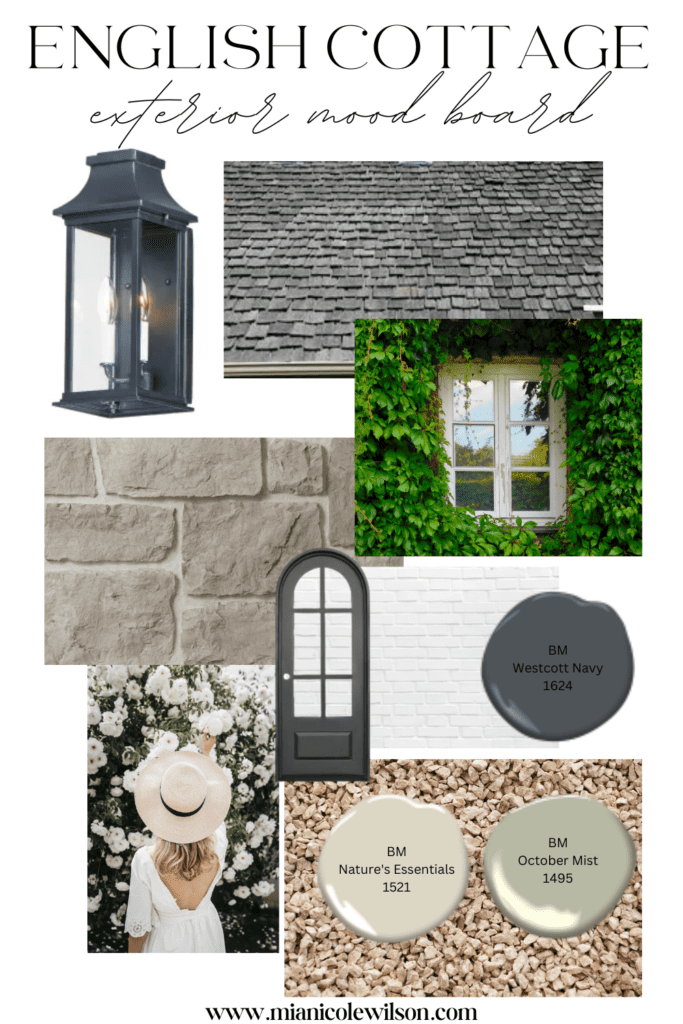 Want more English cottage inspiration? Check out these blog posts:
Best, Mia