If you are looking for an item that will:
Create a healthy hair foundation for other products to work better
Elevate your hair care routine
Make you feel extra fancy
…then you need a Mason Pearson brush!
Sound good? Say hello to shinier, healthier and easier to manage hair! (No matter your hair type!) Learn more about how investing in a Mason Pearson brush makes sense below.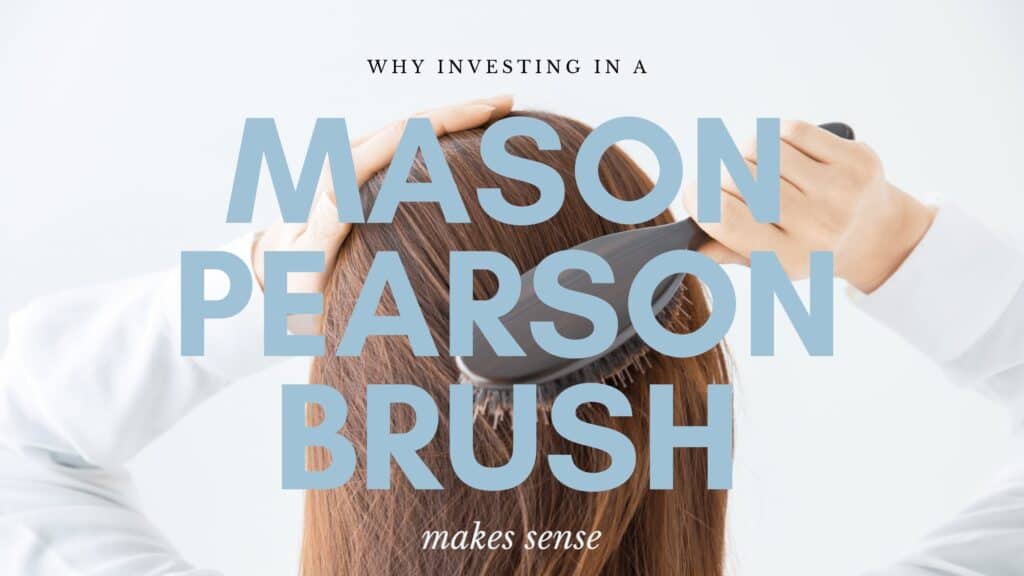 Disclosure: This blog post contains affiliate links, which means I make a small commission on a purchase without an additional cost to you if you buy something through the link.
The History Of Mason Pearson Brushes
Mason Pearson started making hairbrushes in London, England around 1885. Read the interesting history of Mason Pearson here!
These brushes have been loved for generations, and there are many reasons for that, which I dive into more in-depth below.
Is A Mason Pearson Brush Worth It?
Absolutely!
A Mason Pearson brush is absolutely worth it, due to these benefits:
The boar bristles in a Mason Pearson brush make your hair shinier and healthier than a cheap brush ever could.
There is a brush for every hair type.
Mason Pearson brushes are gentle on every hair type.
For low maintenance lovers, the brush is easy to clean and take care of.
When you do take care of it, it will last you a

LOT

longer than a regular plastic brush from the drugstore.
For example, I bought my 7 brush years ago and it's still a staple. We also can't count out that it is dang pretty looking on the bathroom counter!
Using a Mason Pearson brush has made me more intentional with my hair, and adds a luxe touch to my routine.There's no doubt you'll also adore this classic beauty tool.
You'll definitely use it daily, making the investment so worth it!
What Are The Benefits Of A Mason Pearson Brush?
A Mason Pearson brush is better than a typical drugstore brush because of its boar bristles. They provide these five great benefits, as listed below:
1. Healthier Hair
Boar bristles do a great job of distributing the oils in your hair throughout your whole head. This is good news if you suffer from dry ends from over washing or other damage!
The boar bristles naturally take oil from the roots and bring it to the ends of the hair. Thus providing moisture and protection for the stands. Plastic bristles don't do that! This is the key to healthy hair and makes products work better and last longer.
For example, if you are distributing the oils away from your roots, you can avoid needing to shampoo so often. By brushing daily with a Mason Pearson brush, you'll get silky shiny hair and have less frizz/flyaways.
2. Healthier Scalp
It is worth it to note that our scalp is an important part of having healthy hair. We need to remember to brush our scalp/hair daily to remove all the buildup and oil that can accumulate.
Fortunately, a Mason Pearson brush basically exfoliates the scalp! This is because the patented design of a MP brush gets the boar bristles as close to the scalp as possible.
If you use dry shampoo, it is crucial that you do this. Dry shampoo can cause the hair to fall out as it weakens the follicles. Last, we can't forget that brushing the scalp will bring more circulation to the scalp. This increases blood flow to the area which can also help encourage your hair to grow.
Want more on haircare? Check out these blog posts here:
3. Gentle on Hair
Going back to the boar bristles, they are very gentle and soft.
You don't have to worry about yanking your hair out or hearing a ripping sound when you brush through your hair. This all means that there is less breakage, and it feels much better too!
4. Quality Product
The patented pneumatic cushion on a Mason Pearson brush helps it conform to your head better. That allows for those boar bristles to get up close and personal with every strand.
The bottom line is that a Mason Pearson brush is a high quality product. It can last much longer than your regular hair brush from the drugstore, if you make sure to take care of it.
Luckily, the look and materials (and price!) of the brush make it easy to treat it like gold for all the years to come.
5. There's A Hair Brush For Every Hair Type
An important reason to invest in a Mason Pearson brush is that you can't go wrong with it! No matter what hair type you have, it is easy to find a match for you.
So, below is a guide to answer the question: "How do I choose a Mason Pearson brush?"
Which Mason Pearson Brush Should I Get?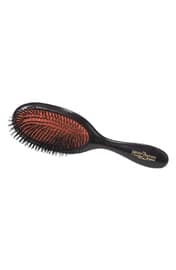 If you are wondering which brush is for you – it's a piece of cake!
To start, there are 3 types of tufts you can choose for your Mason Pearson brush:
Pure Boar Bristles
Combination of Boar Bristles and Nylon
Nylon
These 3 different tuft versions typically correspond to your hair type. Find your hair type below for the why + brush recommendation.
Straight Hair (Fine to Medium Density)
Pure Boar Bristles are the name of the game for you, which is super gentle on your hair.
For straight hair that is a fine to medium density, the Mason Pearson Boar Bristle Brush is a great option.
There is also a Sensitive Boar Bristle Brush if you have straight, fine, or thinning hair.
Straight Hair, Wavy Hair (Medium to Thick Density)
Next is those with thicker straight hair, or a lot of wavy hair.
Your brush needs more strength to penetrate the strands.
The Mixed Bristle Version does just that, and you'd be a great candidate for it.
I have this one and adore it since I have longer, thicker straight hair.
Curly Hair, Coarse Hair (Thick Density)
If you have unruly hair, you will most likely need the Mason Pearson Detangling Brush.
After you have determined your tuft version, you can choose from these sizes:
Large
Medium
Handy
Pocket
Large Military
Medium Military
A pocket size is handy for your purse or traveling.
If you have longer hair Mason Pearson recommends the larger sizes, and shorter hair smaller.
You can also choose from 4 colors, depending on where you can find them!
White, black, blue, and pink.
Can You Use A Mason Pearson Brush On Wet Hair?
You should never brush your hair when it's wet as it can be prone to breakage! The healthiest option is to use your brush on air-dried hair.
How Do You Clean A Mason Pearson Brush?
For the larger Mason Pearson brush styles, they come with a handy Cleaning Brush! You should use this to clean your brush. You can also purchase it separately.
Use the Cleaning Brush to loosen hair strands caught in the brush. It also removes the oils, dust, and flakes that accumulate. To get things extra squeaky clean, make a solution of lukewarm soapy water to use with the Cleaning Brush. If you do not have a cleaning brush, it's possible to also use a new, clean toothbrush.
This article here from Chemist Direct really does a good job breaking it down and explaining the process step by step.
Overall Mason Pearson Brush Review
A Mason Pearson brush is worth investing in because it looks pretty, will last you a long time, and provides many benefits to your scalp/hair.
A regular hairbrush from the store can't match what it can do! When you take care of this classic beauty staple, you won't have to re-buy brushes all the time. You deserve a lifetime of beautiful hair!
Let me know what color you would choose for your Mason Pearson brush, as well as which type would be best for your hair in the comments below!
Best, Mia
This content is for informational purposes only, and what has worked for me personally based on my own opinions. I am not a professional/medical doctor, and you should always consult your doctor or dermatologist on what will work best for you. The information presented here is not legitimate, official advice from a professional. If you choose to rely on any information from this blog, you do so at your own risk. Please refer to the "Blog Disclaimer" tab in the menu bar to read more information and the official disclaimer statement.