In this article, you'll be introduced to the BEST microneedling pen for home use that you can buy! Microneedling pens are very effective for getting rid of deep acne scars, as well as correcting texture, fine lines, and dull skin.
Forget the other options out there – this pen is just like a professional microneedling pen, but at a fraction of the cost. Plus, you can find it available on a reputable website – no sketchy sellers here.
So, what is the best at home microneedling pen I recommend? The ORA Electric Microneedle Derma Pen System! I review this pen below, plus go into detail about why microneedling is such an amazing (and effective) beauty treatment.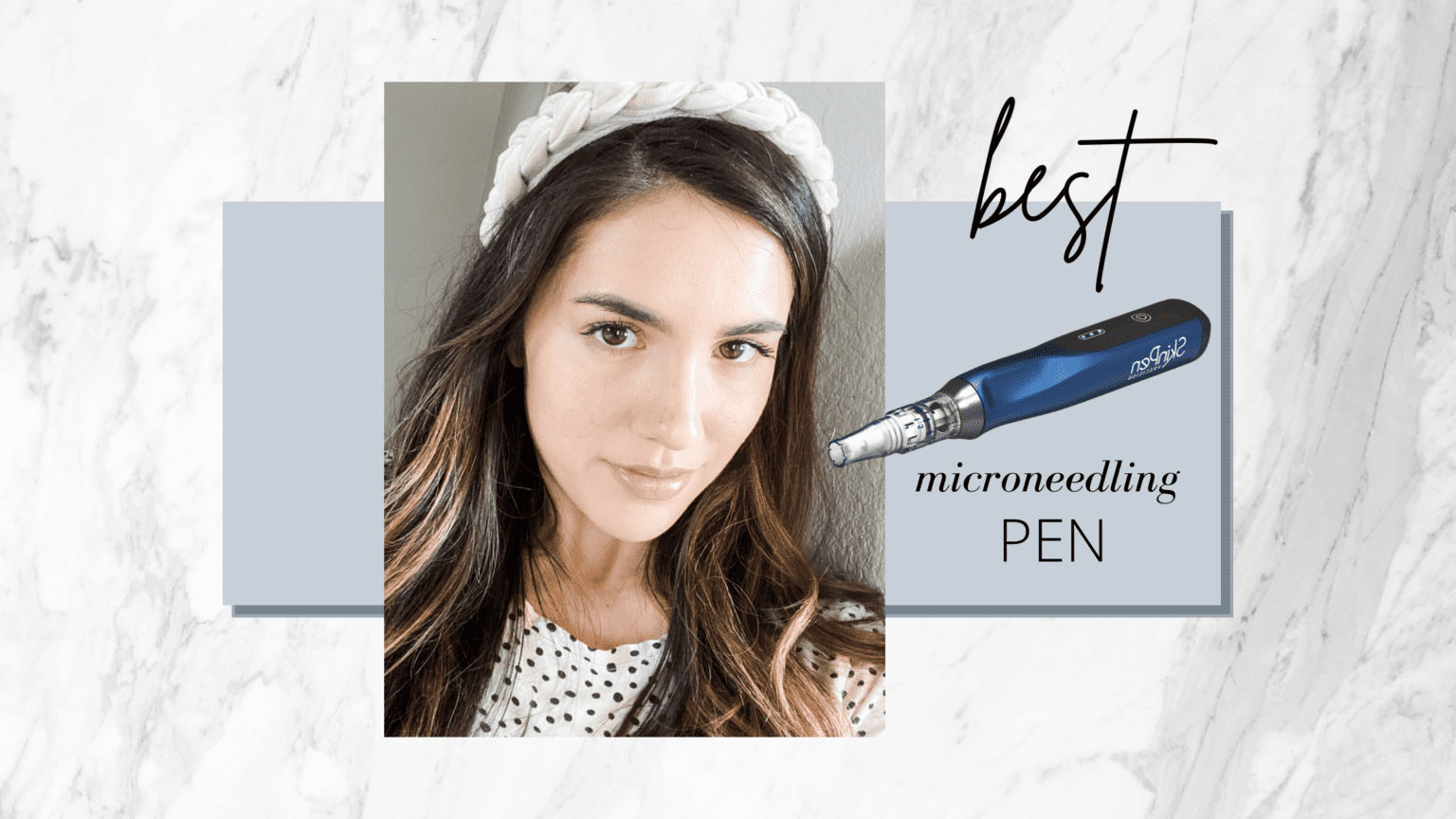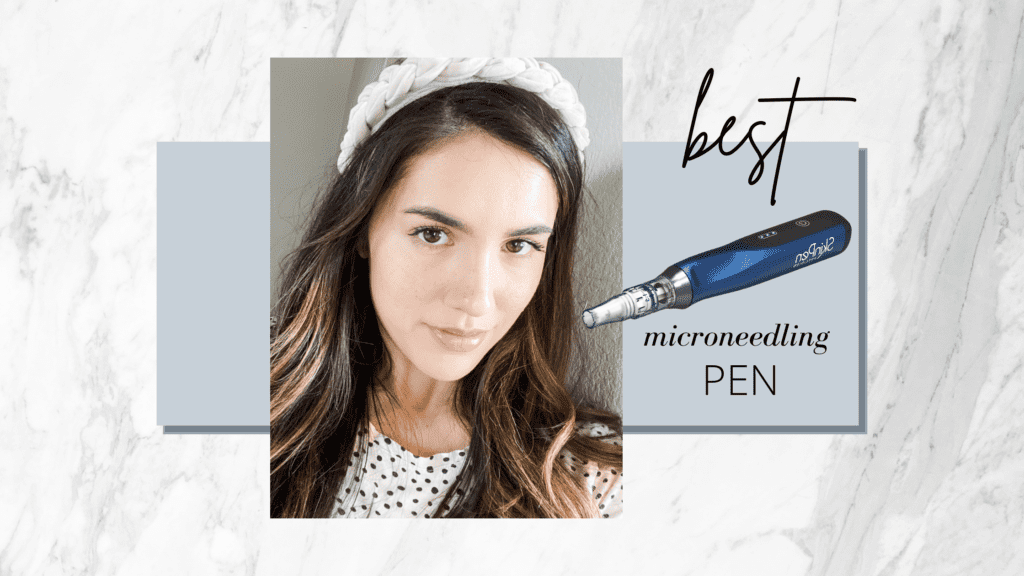 The Best Microneedling Pen For Home Use
Without further ado, click HERE for the pen that I swear by!

Here's why:
It's Affordable And Reusable
This is the #1 reason why most people will love the ORA Pen. It is super affordable! It costs $90 on Dermstore.com. This includes the two needle heads that come with it.
From then on, all you need is to buy the replacement heads that come in a pack of 3 for $20. I recommend using one needle tip per session, so for around $100 dollars you essentially have the ability to do 5 microneedling treatments! It is reusable for endless sessions.
This is crazy cheap compared to paying $300 per microneedling pen session that I used to pay at the dermatologists office.
It's Effective
I chose to try this pen because it was just like the device used at the dermatologist's. I had tried dermarolling before in the hope of it curing my deep acne scars with no luck.
But after realizing how much more effective microneedling is when using a pen like device, I was hooked.
This is the best microneedling pen for home use because it closely mimics the pens found at the dermatologist's office with the up and down motion. This ORA Microneedling pen doesn't pull or tear on the skin and minimizes the risk of damage.
It's Easy To Use
The ORA Microneedling Pen is extremely easy to set up and use. Plug in the adaptor, attach the needle head and you are ready to go! You can get rid of your acne scars easily.
Reputable Company And Brand
I bought the ORA Pen from Dermstore.com and trust that website. If they are carrying the ORA brand I believe that it is good and reputable brand.
I won't buy these types of skincare microneedling devices from a site like Amazon as I am not 100% certain that what they sell is sterilized and safe.
Positive Reviews
I always make sure to read reviews before purchasing items. The overall reviews of the ORA on Dermstore.com are very positive. Furthermore, those reviewers have all different sorts skintypes and have seen much improvement from using the pen. Whether you have deep acne scars, fine lines, dull texture, PIE scars, this device will help.
So, now that you have seen all the reasons why this ORA Dermapen System is the best home microneedling pen, let's learn more! I cover how to use this pen at home, and why microneedling is a great option for acne scars. All from my experience!
How To Use A Microneedling Pen At Home
IF YOU BUY THIS PEN, READ THIS ARTICLE THAT OUTLINES OTHER NECESSARY ITEMS NEEDED FOR MICRONEEDLING AT HOME. This is SUPER IMPORTANT because you can't just microneedle on your bare face.
This article also outlines how exactly I microneedle my face. Of course, the pen will come with detailed instructions to follow as well. This article also covers how often to microneedle your face, and the necessary cautions to take when doing the treatment.
Why Microneedling Is Effective For Acne Scars
If you have deep pitted scars to get rid of, the main thing you will need to focus on is rebuilding collagen. Therefore, microneedling will be your best bet for that! Microneedling is a form of collagen induction therapy (CIT) that will essentially regenerate the skin from the inside out.
This is crucial for scars because they typically don't respond much to topical creams or serums. (With the exception of retinoids, but if you are needling to get rid of deep scars, retinoids will only slightly improve them.)
Microneedling Builds Collagen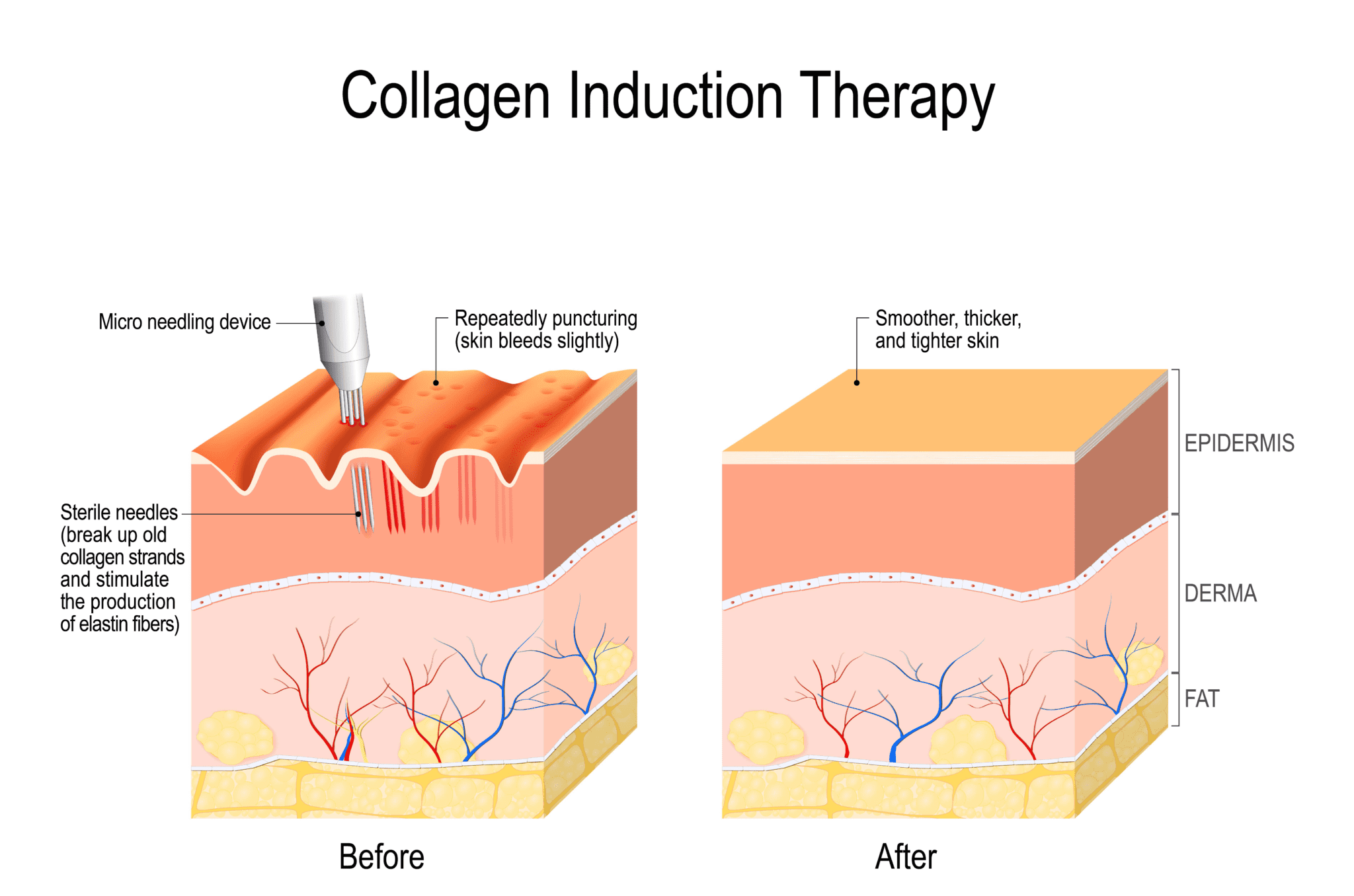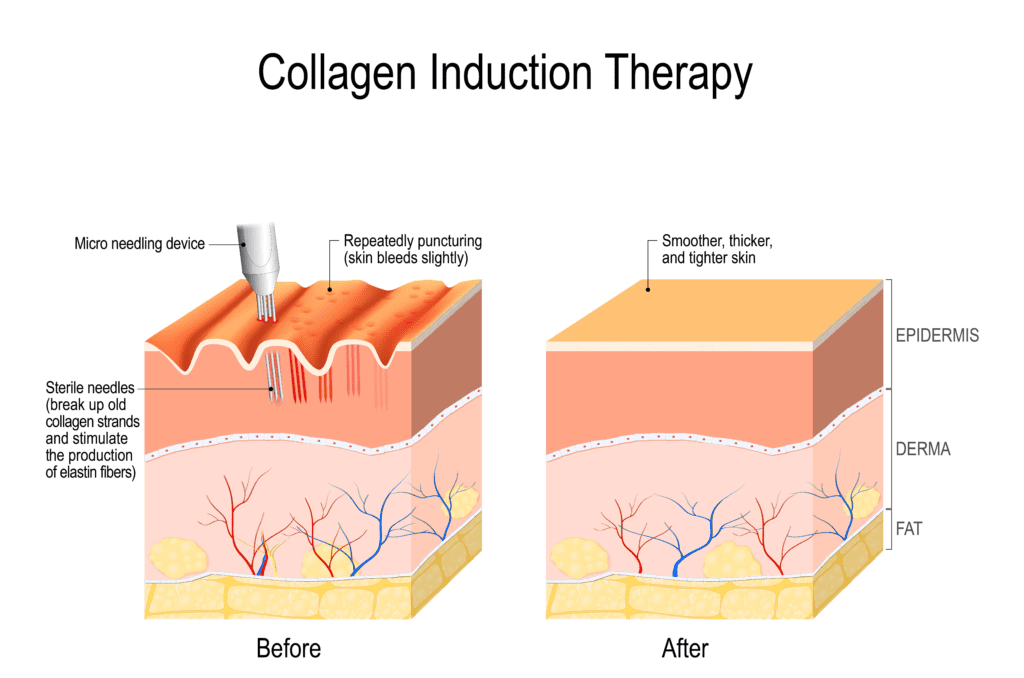 Collagen, as you may know, is so important to healthy skin. Collagen fibers are what keep the skin strong and plump. When acne forms, inflammation occurs.
"Abberant production and degradation of collagen during the healing process leads to various types of acne scars. There is a net destruction of collagen in the dermis that results in an atrophic scar" (NCBI).
This is where microneedling comes in by building back up that collagen.
Microneedling involves tiny needles that will essentially rapidly and cleanly puncture the surface of your skin, causing an injury. (Almost like it's being irrigated!) This results in:

"…stimulating new collagen synthesis and collagen deposition through activating an inflammatory response." (NCBI)
Less Invasive Procedure + Side Effects
Microneedling all around is not an invasive procedure. It's not painful, and can even be performed on a lunch break if you get it done in the dermatologist's office!
I personally wouldn't do any other medically related procedures at home except for microneedling. It isn't complicated and not risky to me when I follow the directions exactly as written and use sterilized products.
Minimal Downtime
You can do this treatment Friday night at home, then be ready to go back to work on Monday without any sign that you've done microneedling!
Typical recommendations say to not wear makeup for a few days after performing the procedure. The downtime of doing this on one of your laid back the weekends is totally doable.
I will go more into aftercare later on in the article but basically be sure to not resume your regular skincare routine for a week or so after.
Less Expensive Option
From my personal experience of getting a microneedling treatment done in a dermatologists' office, it runs around $300 per session.
This in itself is a lot less expensive than other solutions to get rid of acne scars like lasers which can run up to $1200 per session.
And of course, depending on your skin you might need multiple sessions of whatever procedure you choose. It adds up! Doing it at home can be done for a fraction of the price – like say $90 bucks!
I have also seen other microneedling pens available online that started at $140 and up. This is a much more affordable option!
What Results To Expect When Microneedling [My Personal Experience]
I expected to see close to professional results when using this microneedling kit on my own! This is of course with multiple sessions (if necessary), using the right products, and spacing out the treatments appropriately to let my skin regenerate.
After performing the treatment on myself, I saw the same type of bodily response and healing process that happened after getting it done at the dermatologists. This helped me feel reassured that I was using something that was actually effective.
In my personal experience, my scars definitely filled in and look a lot more shallow. Secondly, the overall texture of my face just looks much more smooth and glowy.
As a disclaimer, when you microneedle and rebuild collagen, the skin needs 30 days to properly heal. If you do this procedure again before the 30 days you can disrupt this healing process and just cause more damage to the skin.
Typically, improvement is said to happen after as little as 3 treatments. Furthermore, the ease of using refillable needle tips makes it perfect to do as many sessions as needed to get the results I want.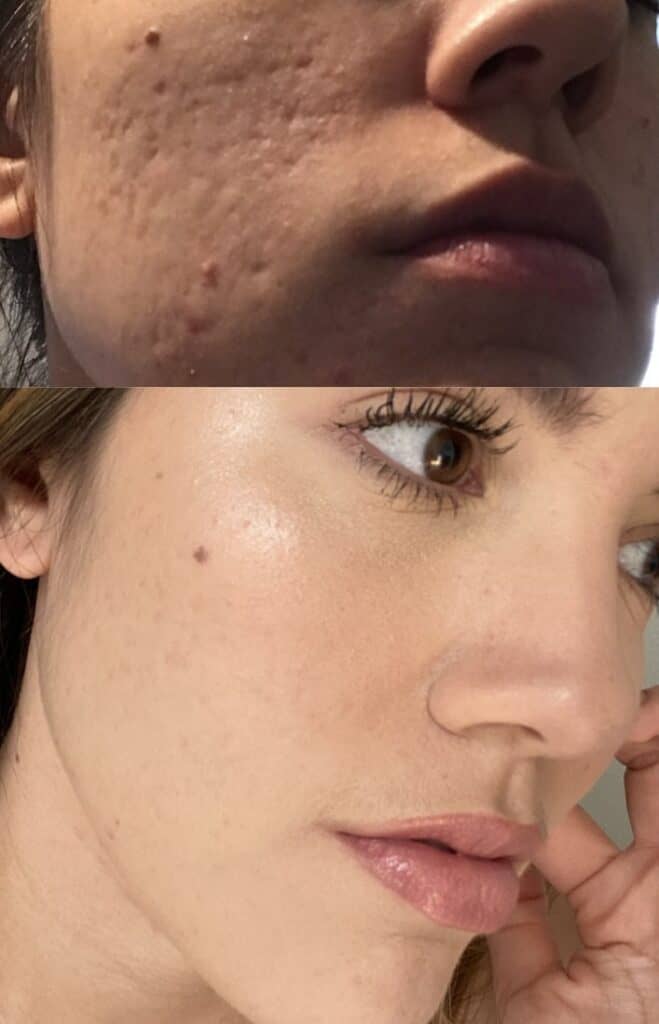 Should You Invest in ORA Electric Microneedle Derma Pen System?
Investing in skincare is so worth it, as it creates a flawless foundation and builds confidence!
This microneedling pen is super affordable so you don't have to live with acne scars forever if you can't afford the dermatology sessions. The pen will actually work to regenerate your skin with consistent use.
I will also point out that this SPECIFIC pen is the one to consider as I purchased it from a reputable site, Dermstore.com. Be wary of devices purchased on Amazon, as I don't believe they are following strict guidelines for packaging.
Who knows if the device you got is actually sterile or not? This is a big red flag if you are using it as a microneedling tool and puncturing your skin with it.
As an added bonus, the ORA Pen is something you can buy once and then just buy the refillable needle tips.
Plus, I actually use this device so you can trust my review from experience!
After your scars are better, you can continue using this to constantly get younger, prettier skin.
Overall Review of The Best Microneedling Pen At Home
This is a really great pen to have on hand for any skin concern, but especially the deep scars that I was targeting. The ORA Pen also makes a good gift too.
If you are needing to do microneedling at home, choosing the ORA Pen as your new favorite beauty tool is a smart choice!
Summing it up: the ORA Pen is effective and resembles the procedure and style of device used on me during a dermatologist's office session.
It's easy to use, and it's super affordable making this microneedling pen a no-brainer to have in your own cabinet. Want a solution to get rid of acne scars? Then you need to snag this pen and get to rebuilding that collagen ASAP!
I hope you enjoyed, and take care!
Best, Mia

This content is for informational purposes only, and what has worked for me personally based on my own opinions. I am not a professional/medical doctor, and you should always consult your doctor or dermatologist on what will work best for you. The information presented here is not legitimate, official advice from a professional. If you choose to rely on any information from this blog, you do so at your own risk. Please refer to the "Blog Disclaimer" tab in the menu bar to read more information and the official disclaimer statement.