Not wanting to drop almost $40 on a small tube of Dior Lip Oil? You're in luck – there are Dior Lip Oil Dupes that you can buy for under $11 at the drugstore! Get the same trending TikTok lip look for way less, because no one will be able to tell the difference!
Disclosure: This blog post contains affiliate links, which means I make a small commission on a purchase without an additional cost to you if you buy something through the link.
Dior Addict Lip Glow Oil

This is the infamous Dior Lip Glow Oil. It is the It Gloss to have right now for a perfectly effortless, "clean girl" look. This gives "your lips but better", by protecting and enhancing the lips while bringing out their natural color. The most popular Dior Lip Oil color is "Cherry" and the "Universal" clear hue, based off of what I've seen on TikTok!
Dior Lip Glow Oil Ingredients
The reasons why the Dior Lip Oil is so good…
Cherry Oil – Cherry seed oil is known to moisturize the lips and leave them supple. It also tightens the skin, which can do wonders to make the lips look younger, especially if you have lined/aging skin.
Lip Reviver Technology – This reacts to the moisture level in the lips. In doing so, it beautifies the lips continuously and your lips will look great even when you go without the gloss!
Expect mirror high shine that looks glossy but does double duty by intensely moisturizing the lips. The Dior Lip Oil smells like yummy vanilla mint!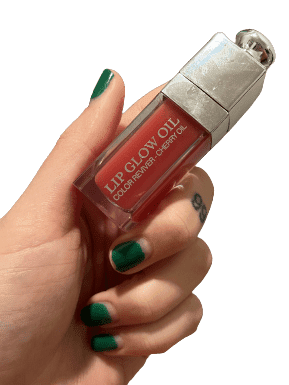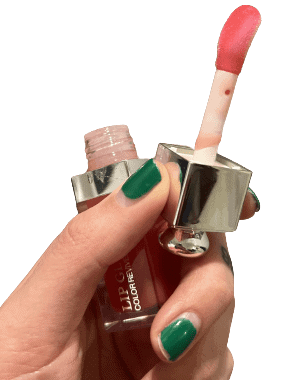 Here is the wide doe foot applicator. This makes sure that just the right amount of gloss is applied to the lips making them look plump and hydrated!
When applied, the Dior Lip Oil should last around 30 minutes at least on the lips. Of course, if you are eating or drinking it will last less since it is not a lip stain.
8 Affordable Dior Lip Oil Dupes
Let's get into the Dior Lip Oil dupes you'll want to try to get the same look for less!
Amazon Lip Oil Dupe
This dupe kicks off the list due to it having IDENTICAL packaging. They both say "Lip Glow Oil Color Reviver Cherry Oil" just in slightly different font. But, other than that, the colors are nearly the same as well. It does seem to be more like a gloss and less than a pigmented, stickier lip oil like the Dior option.

The applicator is soft and in the same style. You could really fool people with this one – all for $9.99.
Covergirl Clean Fresh Yummy Gloss
While this gloss isn't as aesthetic as the Dior Lip Oil, it has all the ingredients inside to get you the same look! The Covergirl Gloss will plump and moisturize the lips with hyaluronic acid. The color "You're Just Jelly" is identical to Dior "Cherry" when applied. It's only $10.99 at Ulta.

Ulta Juice Infused Lip Oil
Soothe your lips with the Ulta Juice Infused Lip Oil! It contains Vitamin E to nourish the lips and condition them to look smooth & plump. This applies with just a touch of sheer color. At $10 it is definitely a great option to achieve the naturally beautiful look on a budget.

Milani Fruit Fetish Lip Oil
The Milani Lip Oil touts itself as being non sticky, but super hydrating just like a lip oil should be. The applicator looks very similar to Dior's just a little smaller. The "Cherry LIme" hue should be your selection if you want to dupe the "Cherry" Dior shade! This is available at Ulta for $10.99.

Essence Cranberry Lip Oil
Essence's Lip Oil is a very affordable dupe that comes in at $4.99 at Ulta. As one of the most affordable options, it does differ slightly. This has more of a jelly texture and goes on clear rather than pigmented. It also tends to be out of stock so if you see it at an Ulta near you grab it!

Lottie London Lip Oil
The Oil Slick Lip Oil is another affordable alternative to Dior's Lip Glow Oil! It smells amazing, and leaves a sheer tint without being sticky. Pick up the "Extra Cherries" shade at Walmart for $6.98.

Burts Bees Lip Oil
In "Whispering Orchid" – $8 at Walmart!

Catrice Lip Oil
In "Glossy Blackberry" is $7 on Amazon.

Higher End Dior Lip Oil Dupes
There are also other options that stack up to Dior's Lip Glow, but are just a little bit more expensive. Here are two higher-priced options, but still cost less than the original!
Winky Luxe Barely There Tinted Lip Oil
This lip oil is $18 at Ulta, but with good reason! The Lip Oil is a blend of Avocado, Olive, Grapeseed, and Jojoba Oil to really nourish the lips. You'll love the more intense color payoff, and vanilla scent that makes it close to the original in those ways.

Clarins Lip Oil
Clarin's Lip Oil in "Cherry" has been around for a while, and at $28, it's not far off from Dior. But, with this lip oil, you'll get a trio of plant oils including Organic Sweetbriar Rose Oil, Hazelnut Oil, and Organic Jojoba Oil. They are sustainably sourced as well. What's even cooler is the pH-adapting colors make it customizable to your own lips, just like Dior! If you are wanting a less thick lip oil, you might try this.

Rem Beauty Drip Lip
Try "Raspberry Drip" which has ashwagandha in it! The metal ball on the applicator is a nice touch that gives a cooling effect. This has more of a lightweight, slick oil feel instead of a sticky gloss. This is $16 at Ulta!

InnBeauty Project Glaze Lip Oil
While being very similar to the Dior option, you'll adore the candy apple smell & taste much better! Try "Glaze #1" for $17 at Sephora.

Fenty Skin Cherry Treat Conditioning and Strengthening Lip Oil
This is usually sold out but gives Dior's Lip Oil a run for its money!

Want more high end makeup dupes? Check out these blog posts too!
Best, Mia