You might have noticed beauty creators on your FYP are going crazy for the Rare Beauty Soft Pinch Liquid Blush! They are usually in shock at how just a little bit goes a long way … it's super pigmented! As it usually goes with viral TikTok beauty products, they sell out fast. This blush is no exception. If you are looking for a dupe to get the same look for less, you are in luck! Here are the 7 prettiest Rare Beauty blush dupes you'll want to snag.
Disclosure: This blog post contains affiliate links, which means I make a small commission on a purchase without an additional cost to you if you buy something through the link.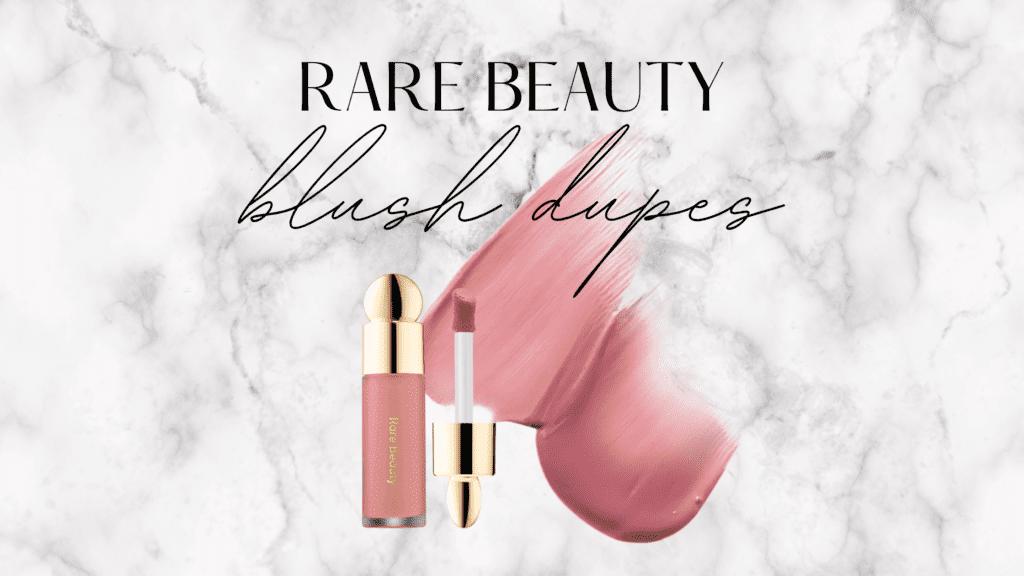 Rare Beauty Blush Dupes
When it comes to a Rare Beauty blush dupe, you want to look for something with a radiant finish (though there are a few shades in the matte range). People love this blush due to the color payoff – it goes on intense but blends so well for a natural-looking glow! The liquid formula definitely gives that "dewy" look that is very on-trend right now.
Rare Beauty Blush is good for dry skin as the formula is creamy and won't look patchy on any dry spots. The sheer formulation makes it perfect to build up or modify as well.

So, read on for the best Rare Beauty Blush Dupes to recreate the look for less.

If you love the shade "Encourage" from Rare Beauty, try out Milani's blush in shade "Rose Romance". This blush really replicates a dewy natural flush. It looks so effortless – due to the lightweight liquid formula. It is also buildable if you want to add more for a dramatic look. $10.99 at Ulta.
The pale pink color and liquid formulation make this one of the most natural blush types to try.

"Joy" by RB is a peachy hue. Maybelline's Cheek Heat Blush has a very similar shade in the color "Coral Ember". You'll also get the same dewy finish with this lightweight and breathable formulation which is $7.99 at Ulta.

Feel free to grab multiple shades of this Profusion blush, as it comes in at $4.98 at Walmart! The packaging is pretty and the unique applicator leaves you with a highly pigmented, creamy and easy-to-blend flush. The finish is more satin-y which is right in-between matte and dewy. Try the shade "Paloma" to recreate the beautiful cherry red glow you get with Rare Beauty's "Grateful".

"Believe" is the same as "Baby Doll" by NYX! This blush easily melts into the skin when applied. $9.50 at Ulta.

This Amazon brand has "Hope" as a color listed which is a nude mauve. That is the exact same as Rare BEauty's popular "Hope"! Due to it being Alix Earle's favorite shade right now, it is always sold out. Grab the dupe here!

While not exactly a liquid blush, this blendable stick blush still gives a very natural look. You can even build it up! Pair this with a brush or your fingers for those who might be intimidated by a liquid formulation.

Here is a Rare Beauty Blush Dupe by Revolution Makeup!
If you are interested in more high end makeup dupes that will save you $$$, check out these blog posts:
Best, Mia