Not in love with love? Celebrating the single life? Boys got you down? Here are 12 broken heart nails ideas to copy that are super cute – but still get the message across. Express how you are feeling with these f**k love nail inspiration pictures.
Let's jump in!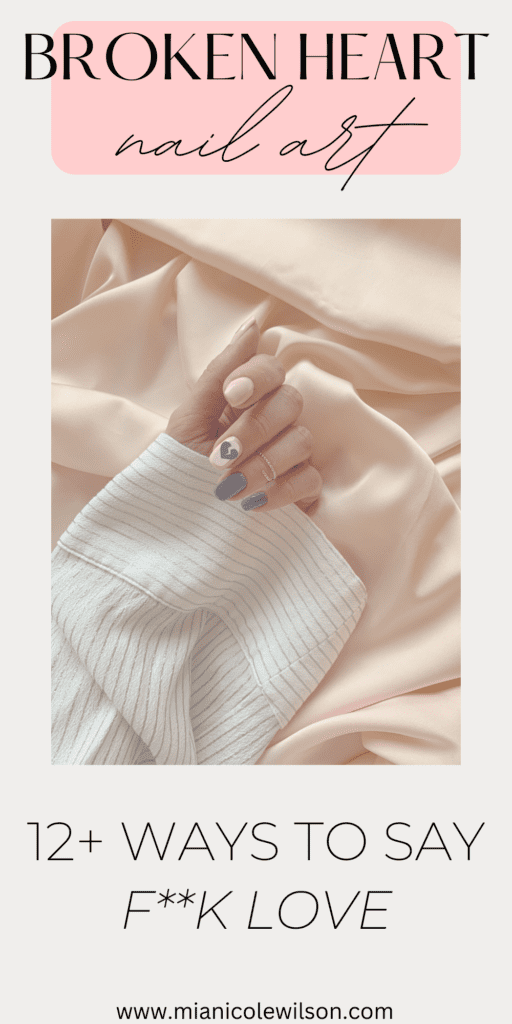 Does your heart feel like it's completely split in two? This classic broken heart shape is easy to recreate. Pair it with the colored french tips, and do any color you want.
Take the idea from above and pare it down a bit more. On a neutral, simple background these broken hearts really stand out. This is simple enough to DIY!
This bleeding heart design honestly looks super cool, especially paired with the micro french tip.
No caption needed for these nails!
Flame nails are trending with Y2K nail designs.
If you would rather be subtle about your heartbreak, this dainty heart on one nail will do the job.
Adore the barbed wire around the heart!
Wear your heart on your sleeve (nails) and say it how you really feel.
You can never go wrong with classic black nails!
I hope you enjoyed these anti-love heart break nail inspiration pictures, and can take one along with you for your next salon visit.
Want more great nail inspiration? Check out these blog posts:
Best, Mia