You either love Valentine's Day or hate it. If you prefer Singles Awareness Day, nails can be a great way to make a statement about it! From classic candy heart designs with downright rude sayings, to black velvet – here are 20+ great anti Valentines Day nails ideas to bring to the salon for your next manicure. Some you can even DIY at home or buy!
Disclosure: This blog post contains affiliate links, which means I make a small commission on a purchase without an additional cost to you if you buy something through the link.
Is There An Anti Valentine's Day?
Honestly, I had no clue that there is a whole week dedicated to Anti-Valentine's! It runs from the 13th to the 15th of February and obviously celebrates anything but love. Get your nails ready for any Anti-Valentine's Day parties you might be going to.
How Do You Do Anti Valentine's Day Nails?
Broken hearts, black nail polish, hearts in the trash – all are fun ideas to make a statement on your nails. Here is some inspiration:
Anti Valentine's Day Nails Ideas
Let's jump into how to say f**k off to Valentine's Day!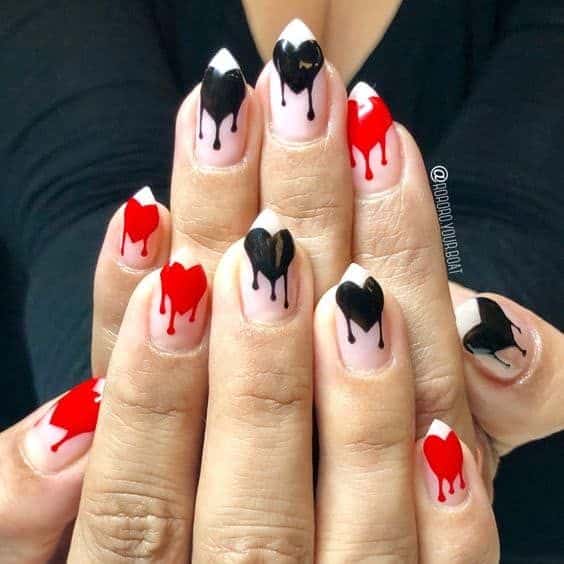 If you don't want to head to the salon, do you own black anti valentines day nails at home with these options you can buy! You'll also see broken heart anti valentines day nails, and coffin anti valentines day nails.







These are the best opposite of Valentine's Day nails you can buy or be inspired by for your next nail appointment!
If you love other nail styles, check out my nail design archive!
Best, Mia
You either love Valentine's Day or hate it. If you prefer Singles Awareness Day, nails can be a great way to make a statement about it! From classic candy heart designs with downright rude sayings, to black velvet – here are 20+ great anti Valentines Day nails ideas to bring to the salon for your…