If you are anything like me, you're absolutely obsessed with the coastal cowgirl aesthetic that is sweeping through TikTok right now. Summer is just around the corner, and you'll definitely find me throwing on my cowboy boots with some cut off shorts! The only catch is that I'm a mom, and instead of spending my days at the beach I'm usually at home chasing kids around. Denim mini skirts and crop tops (while so cute) aren't something I plan on wearing.
Here are some coastal cowgirl inspiration outfits for moms to copy who want to be on-trend, but choose to wear more modest and practical pieces that work better with their lifestyle. Let's dive in!
Coastal Cowgirl Aesthetic Outfits for Moms
There are still lots of ways to jump in on the movement, without showing a lot of skin. You can go for lots of beachy, boho looks, but choose more practical staples like denim shirts, linen sets/button-downs, and midi dresses. Really make your look stand out by going the extra mile accessorizing! Here are 10 inspiration pictures to copy when it comes to dressing like a coastal cowgirl – modest mom edition!
A Linen Button Down
A crisp white linen button-down should really be a staple in anyone's wardrobe! This is an easy way to feel chic and put together while still looking casual – if you pair it with some denim. Roll up the sleeves, button a few more buttons, and you've got a really fresh looking outfit when cowboy boots are added.
Neutral Linen Sets
This set really gives "coastal cowgirl cool" when paired with beachy sandals and a bag. Accessorize with a shell necklace, and you will have an outfit that looks polished but feels like you are wearing your PJs! Going for linen also pretty much guarantees that you won't overheat due to the rising temperatures. Last, add a straw cowboy hat or bag and you're all set.
…More Linen Sets!
Oversized Tee and Denim Shorts
An oversized tee and denim shorts are staples for a coastal cowgirl. What a coincidence – they are staples for moms too (at least for me)! Show your true spirit by proudly wearing a cowgirl/rodeo themed shirt half tucked into some longer denim cut-offs. This is an easy outfit to wear around the house or running errands. You won't have to worry about coverage when bending over to getting things done!
The combo is perfect for the days you don't want to get dressed to the nines, but still want to feel on trend.
Cozy Sweatshirt and Lounge Shorts
This will be your new go-to look to wear at home! Instead of wearing PJs all day, you can throw on a cozy oversized sweater and lounge shorts. Accessorize with beaded bracelets and anklets.
Breezy Dress and Denim Jacket
If you are heading out to dinner with friends or family, this is a fun look to put together. A breezy white dress with a colored or blue denim jacket paired with boots will really show off your style aesthetic. Midi dresses would also work for moms if you are constantly chasing kids around!
Crochet Sweater and Jeans
A coastal cowgirl looooves anything crochet. Throw a similar sweater over a tank to channel your inner surfer cowgirl, and complete the look with jeans or shorts.
Denim Dresses
Denim dresses as well as denim skirts are quickly making their way back in style! I can get behind this style in a midi or maxi length as pictured above.
Shop The Coastal Cowgirl For Moms Look
Are you inspired and want to add a few mom friendly Coastal Cowgirl staples to your closet? Here is a fun look I put together and links to shop the items are in the caption!
Disclosure: This blog post contains affiliate links, which means I make a small commission on a purchase without an additional cost to you if you buy something through the link.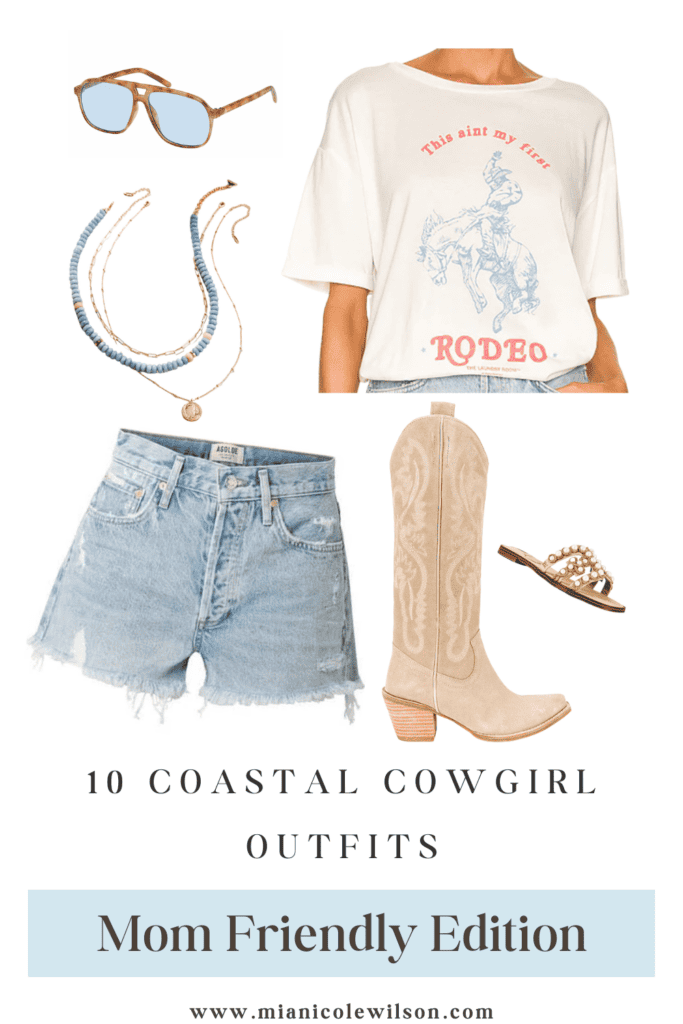 Want more Coastal Cowgirl content? Check out these blog posts:
Best, Mia