Are you patiently waiting for your little bundle of joy to arrive? Documenting the amazing wonder of pregnancy with maternity photos is a must before you give birth! If you plan to take pictures, you might wonder how far along you should be. There is definitely a sweet spot that works best for taking maternity photos – you want to be able to show off your bump, but not worry that you could go into labor at any second!
Here are the best times to take maternity photos, broken down by weeks pregnant.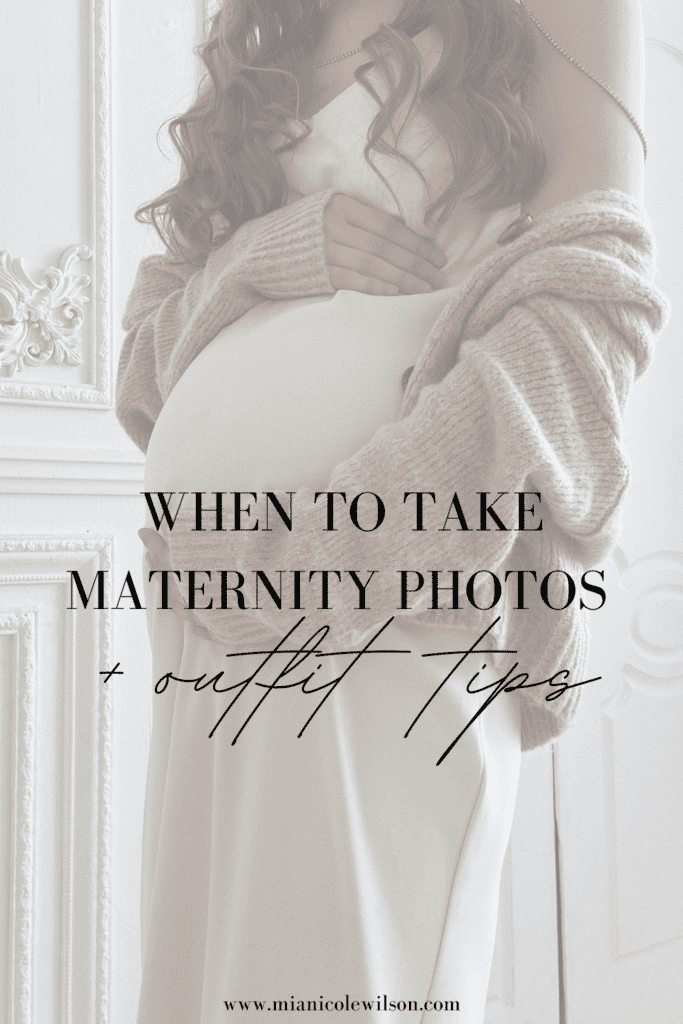 When Is The Best Time For Taking Maternity Photos?
When I took my own maternity photos, my photographer told me that scheduling around 31-35 weeks pregnant was best. That definitely was perfect timing for me – doing anything beyond 35 weeks would have been way too exhausting.
These guidelines can even begin late in the 2nd trimester – it's mostly up to the pregnant woman. As I mentioned above, you're obviously going to want your belly to be prominent – for some, they might not be able to show off much until further along especially with first pregnancies.
But wait too long, and you might not feel or look your best. In the third trimester, swelling starts to ramp up big time and you will be tired approaching the finish line.
So, keep those guidelines in mind but also talk to your photographer and listen to your body!
When To Schedule Maternity Photos
Now that you know the general guidelines of the best time to take maternity pictures, it's best to schedule your photos as soon as you can! You might fall in love with a maternity photographer's work, but find out that they aren't available until the week of your due date.
So, remember that photographer availability can also factor into when you take your pictures.
Want more maternity inspiration? Check out these blog posts:
Tips For Maternity Photoshoots
If you have your maternity photoshoot scheduled and ready to go, here are some tips to remember for the pictures!
Outfit Tips For Maternity Photos
Comfort is definitely a priority for your maternity photos, but you will want something that is a bit more form fitting around the tummy to showcase that baby.
There are many different outfit ideas to choose from: flowy, beautiful dresses, a simple button-down and jeans, or even a silhouette shot with a sleek fitted black dress. Here are some inspirational pictures!
Maternity Photoshoot Poses
Wondering if you will feel comfortable posing for your photos, and what to do? Here are some flattering maternity poses to keep in mind before your big day. Your photographer will probably know these pointers, but just remember:
Try not to pose straight on facing the camera. This isn't the most flattering angle. Instead, try posing to the side!
Gently place your hands under your tummy, on top, on the sides if you aren't sure what to do with your hands!
Walking and talking with your parter while the photographer takes your pictures always makes for natural looking photos.
Posing with a knee bent and angled to the side will create a long and lean figure.
It's always a great idea to check out Pinterest maternity pictures as well and try to study and recreate the poses that you think look amazing.
What To Bring To A Maternity Photoshoot
Depending if you are outdoors or inside for your photoshoot, you will need to bring a few things along!
Always be able to reach for a bottle of water and a snack, especially if you are trekking to the location site.
You might want to bring some props as well! For my maternity photos, I brought a blanket to sit on outdoors, and flowers. Featuring your ultrasounds as well as fun signs would also be great!
Don't leave your makeup and hair bag at home in case you need to touch up your makeup.
Do you want your partner in the pictures? Then bring them too!
Bring any inspiration photos along with you to show your photographer what you had in mind.
Now you are ready to take some amazing photos that you will absolutely cherish over the years!
Best, Mia