Years after Charlotte Tilbury Pillow Talk Lipstick debuted, I finally picked up this ICONIC shade. The warm toned nude formulation is flattering for all, makes your pout look fuller, and is moisturizing while still looking matte. Yet, it took me so long to go for it because $34 for one lipstick is (honestly) quite a lot. Especially when there are lots of other great dupes around! If you are wanting to save money or just see what else compares, then let's jump into the best Charlotte Tilbury Pillow Talk dupes!
Charlotte Tilbury Pillow Talk Dupes
I'm starting off with my personal favorite!
Maybelline Lead The Way Pillow Talk Dupe
I am putting this first because I am 10000% percent sure Maybelline Super Stay Ink Crayon Lipstick in Lead The Way is the perfect dupe. The colors look identical, the feel on the lips is the same, and it even SMELLS exactly alike (cupcakes!) It is my #1 favorite and the best part of this dupe is that it comes with its own sharpener! So cool!
Just like the angled bullet of the Charlotte Tilbury lipstick, the Maybelline lipstick has a crayon-like tip that will give you a sharp application. You might not even need a lip liner!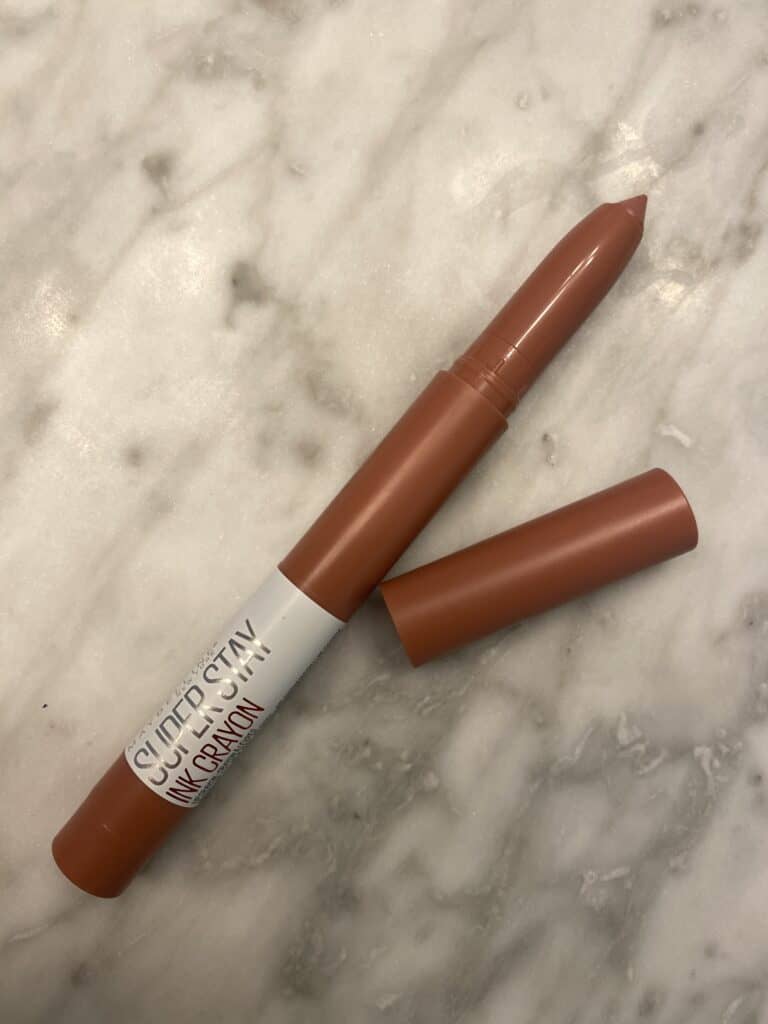 The Maybelline Superstay crayon lasts for an 8-hour wear, which in reality probably didn't stay thaaaat long because I was eating/drinking. Still, it's not a big deal to stick in my purse for touch-ups. All of this for under $10!
FYI, Pillow Talk lipstick wear time is supposed to last up to 10 hours.
Maybelline Lead The Way vs Pillow Talk Swatch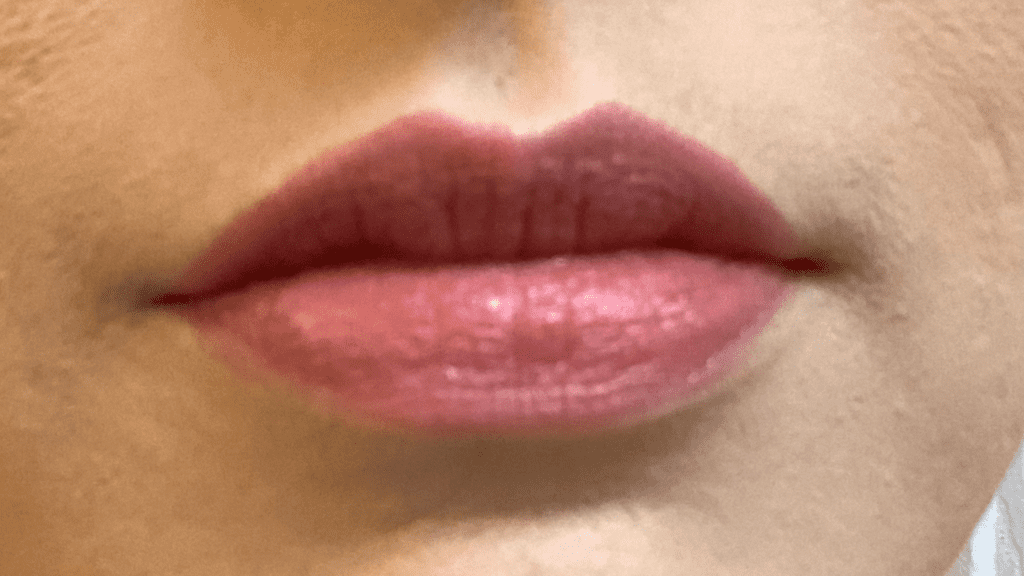 Here is a picture of Lead The Way on my top lip, and Pillow Talk on the bottom. I tried out the sharp angled tip on my top lip to see if it would leave a crisp line.
In this Maybelline Lead The Way review, I was really impressed by the "Ink Technology" and smudge-free formulation that helps staying power. Plus, it is the same shade as Pillow Talk and is just as fun to use.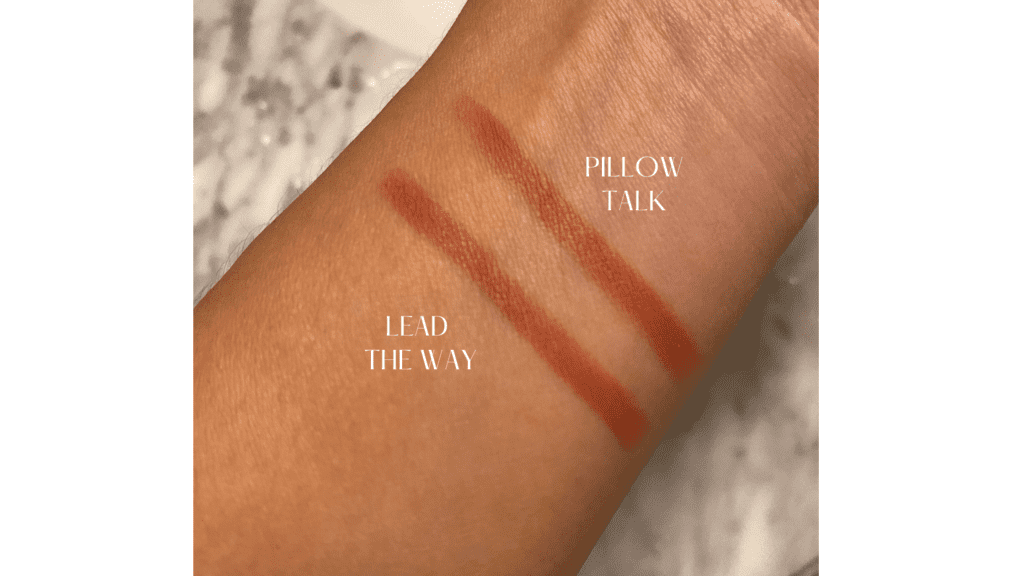 Disclosure: This blog post contains affiliate links, which means I make a small commission on a purchase without an additional cost to you if you buy something through the link.
Flower Beauty Spiced Petal Pillow Talk Dupe

Now on to a close second. The Flower Beauty Petal Pout Lip Color in Spiced Petal is another beautiful dupe. This lipstick is a soft matte and with a cream finish which perfectly describes how Pillow Talk feels on the lips, too. Both this Spiced Petal lipstick and Pillow Talk have hydrating extracts in the formulation. That lends to that creamy, moisturizing feeling on the lips while still looking matte – not shiny, glossy, or sparkly.
Castor seed oil is listed as an ingredient in Spiced Petal. This works as an emollient, which is made up of fatty acids that help the formula glide on the lips smoothly.
This lipstick is also ~$9 which is a similar price point to Maybelline. But, Flower's Spiced Petal is 0.11 oz vs. the 0.04 oz of Maybelline. Despite this dupe being bigger, I still put Maybelline Lead the Way first because of the cool sharpener!
Revlon 003 Pick Me Up Pillow Talk Dupe

Revlon Super Lustrous The Luscious Mattes Lipstick 003 Pick Me has been touted as a great Pillow Talk dupe. There are countless videos on TikTok about it! It has the same nude pink tone to it, but it almost looks a bit more sparkly or metallic vs a solid matte. The packaging isn't bad on this one either, it just doesn't have the same golden Old Hollywood vibe.
This lipstick is infused with agave, moringa oil, and capuacu butter which is supposed to make it hydrating.
Pigment wise, it is a good match to Pillow Talk, but I think you can get a better formula from other dupes. This lipstick tends to be drying and doesn't last very long. If you have chapped lips it can be highlighted. It is very thick almost too, and sinks into lip lines.
Maybe this is because it's one of the less expensive dupes you can get, at around $5.
Loreal Colour Riche Les Nus 181 Intense

L'Oreal Paris Colour Riche Les Nus Intense Lipstick 181 Intense is a very glam drugstore alternative to Pillow Talk if you are still wanting a pretty product in your makeup bag. The packaging is sleek and gold like CT. As for the lipstick, It is very similar in that it is a warm pinkish nude with an angled bullet that will help with precise application!
It contains Vitamin E just like Pillow Talk does. It also has Argan oil for an extra conditioning bonus.
This makes it creamy and lightweight just like Pillow Talk, and all for around $7!
It should also be noted that 173 Nu Impertinent from Loreal is a similar Pillow Talk dupe, but a bit deeper. This might be a dupe for Pillow Talk Medium too!
Les Nus 181 Intense wear time is "supposed to last all day" according to Loreal. But, that is probably not true if you are eating, drinking, talking, etc.
Maybelline Almond Rose vs Pillow Talk

Maybelline Color Sensational Matte Finish Lipstick Makeup in Almond Rose is a Pillow Talk dupe that gives you bang for your buck.
Almond Rose is another creamy matte. What color is Almond Rose? It is a medium-dark pink hue in a warm tone. It mentions it also has hydrating oils in it to help the formula feel comfortable on the lips, and stay matte but not drying.
A great benefit to using Maybelline Almond Rose instead of Pillow Talk is that the Almond Rose shade also comes in a lipliner! So pairing the two will match perfectly, just like the PIllow Talk lipstick and liner does.
This is a $8 option you can find at Walmart, and while it is an affordable dupe, you don't have any special features that set it apart. There is no luxe packaging, sharpener, or at least an angled bullet application.
Wear time is about 4-5 hours, and it's not really scented at all, like Pillow Talk is.
Charlotte Pillow Talk vs Milani Secret Dupe
This Milani Lipstick definitely has the best packaging out of all the dupes. Look how cool it looks! The shade "Secret'" is a very similar warm toned pink and it is not drying at all. It has a soft velvet matte finish.
This is due to the hyaluronic acid in the formulation!
Milani lipsticks are cruelty free and vegan, which unfortunately doesn't seem to be the case with Charlotte Tilbury. The scent is light.
You can find it for $8 on Amazon.
Makeup Revolution Satin Kiss Lipstick Chauffeur

This is a London brand just like Charlotte Tilbury. Makeup Revolution's Pillow Talk dupe is a warm, brown-toned pink which looks like the perfect nude on the lips. This is a satin color which is pretty much a great description of what Pillow Talk and this Chauffeur shade are. It looks velvety matte and not shiny, but the hydrating oils in both lipsticks make it not look dry.
This brand is vegan and cruelty-free. Revolution Satin Kiss lipstick will run you about $7, but looks like it's a bit hard to find mainstream. Maybe this is because it's a UK brand? Otherwise, you can find Makeup Revolution Satin Kiss Lipstick Chauffeur on Amazon!
Is MAC Velvet Teddy A Pillow Talk Dupe?
While this dupe isn't a drugstore/much less expensive option, I had to point this out if you already have this shade from MAC! Velvet Teddy was very popular a few years ago (thanks Kylie Jenner) so I actually still had some of this! I swatched it and was so surprised that they really do look identical!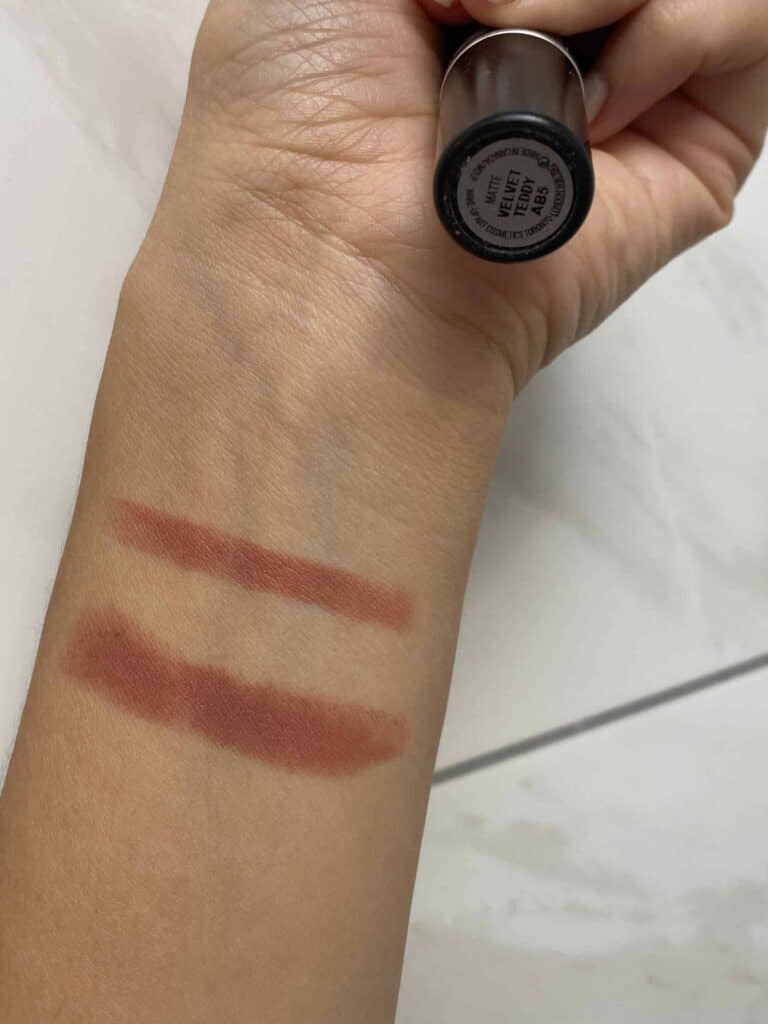 NYX Euro Trash Pillow Talk Dupe
When I saw that this was a Charlotte Tilbury Pillow Talk dupe I was so surprised! I have been using this shade for years – or at least stealing it from my mom's makeup drawer. The color is sooo chic and it's no wonder that I always reached for that shade. I am seeing that it is not possible to get this from Target or Ulta – they must have discontinued selling this NYX Euro Trash shade! Bummer!
Pillow Talk Liner Dupes
While we are on the subject of dupes, here are some great drugstore Pillow Talk lip liner dupes:
Milani Color Statement Lip Liner Nude
Best Pillow Talk Lipstick Dupes
I hope this helps you if you are wanting the beautiful Pillow Talk look without the major price tag. These are all great alternative Charlotte Tilbury Pillow Talk dupes, at affordable prices! And some are ones you might know but not realized can also work as a great alternative!
All the best, Mia