I recently picked up a bottle of the Gisou Honey Infused Hair Oil at Sephora – and I am so glad I did! After trying this product out continuously for a few months, I totally feel like it is worth the hype. Read on for more about this honey hair oil and how it really made a difference for my dry, coarse hair.
Disclosure: This blog post contains affiliate links, which means I make a small commission on a purchase without an additional cost to you if you buy something through the link.
Gisou Hair Oil Review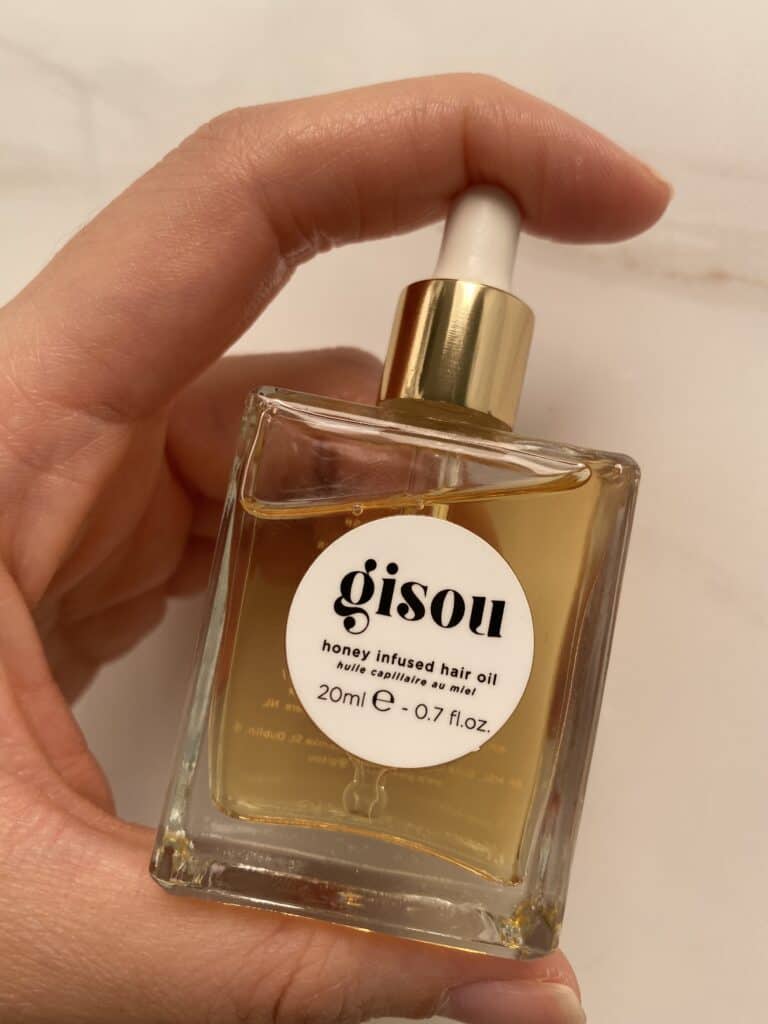 What It Does: This hair oil is supposed to hydrate, boost shine, and smooth frizz/flyaways.
Hair Type: Straight, Wavy, Curly, and Coily
Hair Texture: Medium and Thick
The backstory behind Gisou and how it came to be is actually pretty cool! Blogger/influencer Negin Mirsalehi, who started the brand, has a family history of beekeeping. Her mother created a signature hair formula that harnessed the healing and nourishing power of honey. When her followers wanted to know the secret to her amazing hair, she knew she had to share the recipe with the rest of the world!
Gisou was then born, and it has made a splash in the haircare industry. They have even expanded into skincare, too! What's great is that they use a "bee-centered approach" and harvest their key ingredients in a sustainable, cruelty free way.
Bonus points as well for the sleek and simple packaging! I love how the glass bottle lets the golden honey color be the star of the show.
Gisou Hair Oil Ingredients
Here is what makes the Gisou so lovely!
Mirsalehi Honey
A natural humectant that attracts and retains moisture for stronger, healthier, shinier hair
Coconut Oil
Conditions and tames frizz while adding luster and shine.
Almond Oil
Protects, strengthens, and moisturizes.
What's great is that this oil is also free of parabens, formaldehydes, formaldehyde-releasing agents, phthalates, etc. Basically all the icky stuff! It is also cruelty-free and gluten-free.
The standard size of this Honey Infused Hair Oil is 1.7 oz/50 mL. I actually got the mini Gisou Hair Oil which is an oz. less but can still last you a LONG time!
Gisou Hair Oil Smell & Texture
The oil doesn't have a heavy fragrance to it, which I enjoy because I feel like they wanted to just let the honey scent shine. It isn't overly sweet either – just a subtle honey touch and maybe a fresh powdery note. If you like the scent, you can snag the Gisou Honey Infused Hair Perfume too.
Texture-wise, I love it! The oil is slightly less viscous than honey, and isn't thick or sticky. I really like that it almost has a "dry oil" feel to it. Whatever I have left on my palms after I apply it to my hair doesn't feel heavy or greasy at all.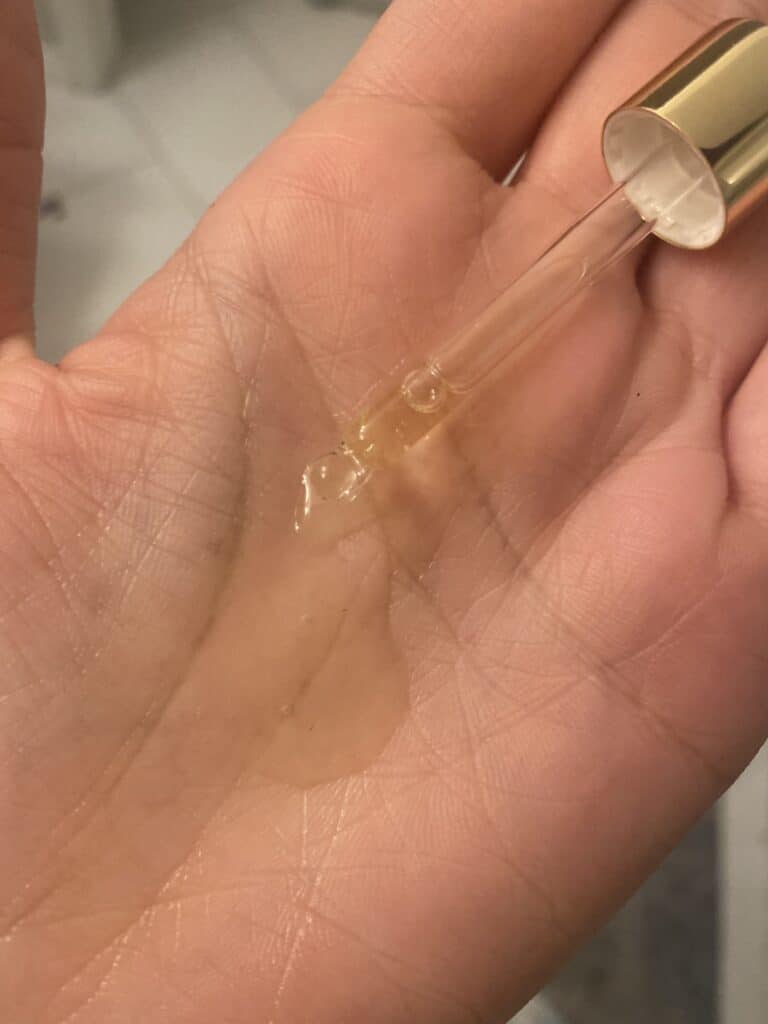 How To Use Gisou Hair Oil
I apply a few drops of the hair oil to my damp hair after I am done showering. I even work the leftover oil onto my scalp where it feels itchy. Then, my hair dries silky smooth, and my scalp is hydrated without looking greasy. Recently, I learned that there are a few other ways to use the oil as well:
You can apply the oil to the ends of your dry hair after styling for a finishing boost of shine. It will tame any frizzy hair too!
Can you use Gisou Hair Oil as a Hair Mask? Yes, you can use it in conjunction with a hair mask for added moisture. Add a few drops into the Gisou Honey Infused Hair Mask, then apply to damp hair for around 5-7 minutes. Then rinse it out.
Last, use the Gisou Honey Infused Hair Oil as an overnight treatment. Coat your hair with two full droppers of the oil. It should be absorbed overnight! If not, just rinse and shampoo. As always, adjust the amount if you have thicker hair. If you have more fine/oily hair use less and concentrate it on the ends.
Is Gisou Hair Oil a Heat Protectant? The Hair Oil is rich in vitamins, minerals, amino acids, and antioxidants to protect your hair from heat. There is also a dedicated heat-protectant spray if you are wanting that.
Gisou Hair Oil Before and After
Pros
Lightweight consistency & doesn't weigh down hair
Oil can be used in multiple ways – cuts down on products needed
Really makes my coarse hair softer
Non greasy/sticky oil
Smells great
Cons
Higher price point
Sometimes can be sold out based on productivity of bees
Gisou Hair Oil Review Final Thoughts
I love all the ingredients in this hair oil, and that it actually works to make my hair feel softer. I have the mini size, and feel it is worth it to buy the standard size! This is because I know it will last a while – I still have a lot of oil left in my mini despite using it quite a lot. The smell is very luxurious and I also want to pick up the Hair Perfume to be extra! I highly recommend it – you won't be disappointed in how it works and it looks great on your bathroom counter.
Want more trending product reviews? Check out these blog posts:
Best, Mia