If you keep up with current beauty trends, you know that the middle hair part reigns supreme. But did you know it doesn't always work for everyone? You might find that if you have a hair part in the middle, it could be detracting from your look. Read on for the why, and reasons to change up your hair part according to your face shape!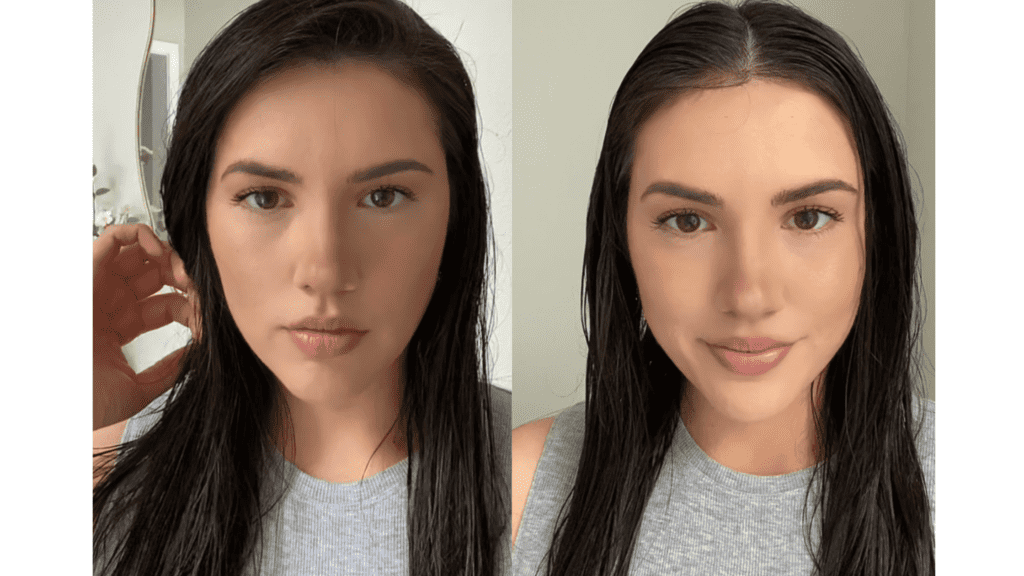 Hair Part In The Middle
Does everyone look good with a middle part? No, it's not always flattering on everyone. Of course, it's totally up to personal preference to wear whatever hairstyle a person wants.
**But, typically, people with oval, round, or very symmetrical faces look best with a hair part in the middle as it accentuates features. It helps elongate the face and highlight symmetry.**
Think of your middle-parted hair as curtains: the middle part lets the face shine. And if you don't have any insecurities to hide then the hair stays in the background while the face is the star of the show.
Should I Part My Hair In The Middle?
So, how to know if you can pull off a middle part? As mentioned above, those specific face shapes look best with a middle part.
There are also certain facial features that hypothetically shouldn't go with a middle part.
Are Middle Parts Unflattering?
If you have a very asymmetric face, a middle part can really bring attention to those features. Your eye is drawn right to the middle of your face, and if you have very uneven eyebrows, for example, it will be very apparent.
It is even said that middle parts are the least forgiving!
Does a middle part accentuate a big nose? Yes, it can. In the same vein, the part draws the eye middle and downward, right to the nose. So, if it is not your favorite feature, a hair part in the middle might not be for you.
On a personal note, I do love the look of the middle part. But after being an acne sufferer for so long, I have pitted scars that made me feel insecure when I styled my hair that way. I usually have my hair parted on the side so I can almost use it to "cover-up" the area where the deep scars are bad on one of my cheeks.
This is another example of how a hair part in the middle might not be the best if you have certain features you are not ready to display.
Now that you know how middle parts highlight the face, as well as the best face shapes for middle parts, what if you decide this hairstyle isn't for you? I've got you covered with your most flattering option below!
Best Hair Parts For Each Face Shape
Read on for the best hair parts for each face shape!
Square Face Shape
Side part (not too deep) with bangs – side swept hair will soften the straight lines of the sides of face.
Round Face Shape
Middle part – creates an illusion of length, and highlights round symmetry.
Heart Face Shape
Side part – helps bring attention away from pointier chins, fuller cheeks.
Oval Face
Any part!
Oblong Face Shape
Middle Part/Bangs – Bangs are great to help shorten longer face length.
Diamond Face Shape
Side part (no bangs) – side part accentuates strong cheekbones.
So, according to your face shape, have you been wearing the right part, or should you switch it up for a more flattering look?
More Important Info About Hair Part In The Middle
Here is a bit more information about hair parts in the middle:
Does parting your hair in the middle cause hair loss?
This is something that can happen any way you part your hair. You can experience hair loss from constantly parting the hair in the same place as it might cause damage. If you are worried about a thinning middle part or thinning hair, check out this article: your shampoo may be the cause!
Read more: Shampoos Without DMDM Hydantoin – 7 Options To Avoid Hair Loss
On-trend middle hair part hairstyles:
Right now, the on-trend hairstyle to rock for 2023 is:
Short Layers with Curtain Bangs parting in the middle. It is sometimes called "The Jellyfish Haircut" and looks like this:
Embed from Getty Images
How To Part Hair In The Middle
You will need a parting or rattail comb. Line the comb up in the middle of your face (or even slightly off-center for a more natural look), then draw a straight line with the end of the comb through the hair back to the crown of the head. Part hair and brush it, and then add some hairspray or styling cream to help it hold!
Disclosure: This blog post contains affiliate links, which means I make a small commission on a purchase without an additional cost to you if you buy something through the link.

How To Train Your Hair To Part Down The Middle
If you are needing to know how to train hair in the middle part, try a middle part pony tail or use bobby pins to hold the hair in place. This will prevent it from naturally falling out of the part, or you messing with the hair.
I hope you find this helpful! Sometimes trends have to be cast aside, and go with what works best for you!
Best, Mia
This content is for informational purposes only, and what has worked for me personally based on my own opinions. I am not a professional/medical doctor, and you should always consult your doctor or dermatologist on what will work best for you. The information presented here is not legitimate, official advice from a professional. If you choose to rely on any information from this blog, you do so at your own risk. Please refer to the "Blog Disclaimer" tab in the menu bar to read more information and the official disclaimer statement.