Want to keep everyone enthralled when you flip your hair or walk by? Then read on for the best hair perfume options that are perfect for any occasion – like your next date night out!
Disclosure: This blog post contains affiliate links, which means I make a small commission on a purchase if you buy something through the link – at no additional cost to you.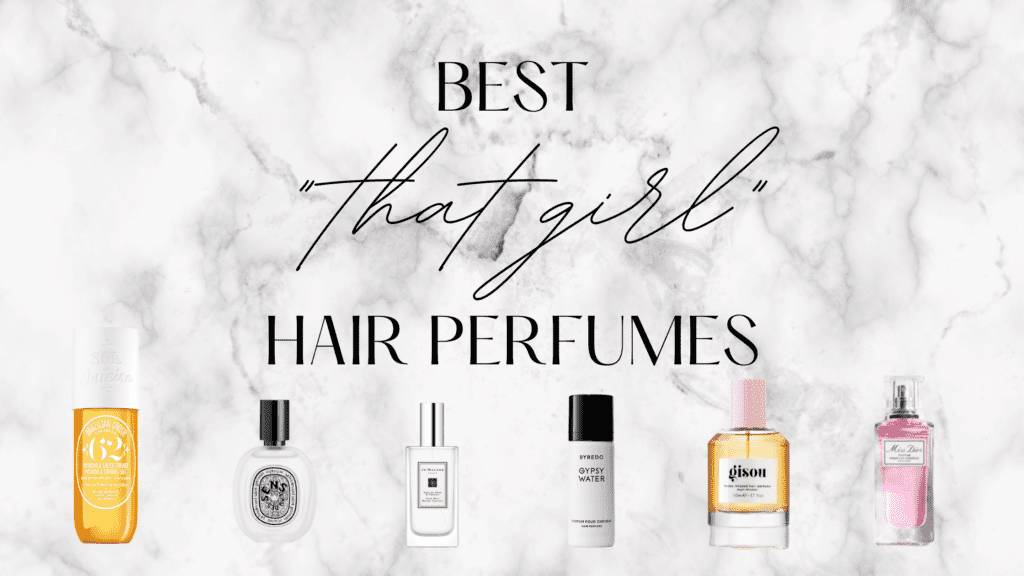 What Is Hair Perfume?
Hair perfume is somewhat of an ingenious idea to me – I have spritzed regular perfume through my hair before but found out later on that it can be damaging.
Regular perfume in the hair can leave it dry, damaged, and frizzy. This is because a lot of perfumes contain alcohol as it is used to distill fragrance. In skincare, products containing alcohol will leave the skin barrier compromised and unhealthy. The same will go for your hair! So, what can I spray on my hair to make it smell good instead? Luckily, there are specially formulated hair perfumes that are safe to wear! Not only will some hair perfumes make your hair smell gorgeous and freshly washed all day – they can also provide moisture and other benefits.
Here are the best hair perfumes to try to take your hair care game to the next level.
The Best Hair Perfume
Let's start with the one that began my hair perfume journey!

I absolutely love the Gisou hair oil and reviewed it here in this blog post. It is something that really makes my hair sleeker and softer. Not to mention it is awesome that it can actually be used in multiple ways! The fragrance is light and delicate, with just a slightly sweet note of honey. If you want to keep your hair smelling as fresh as when you applied the oil, RUN to get the Gisou hair perfume! This is great for when you don't want oily hands or on-the-go. There is also a Floral Edition as well.
This will leave your hair moisturized, as well as shiner due to the Mirsalehi honey it contains.


This is a great way to snag the expensive Byredo perfume for a little less!



This is a super addicting, unique scent that will last all day in your hair!


When to use hair perfume? Use it after styling for a boost of shine and to keep your hair smelling gorgeous all day. You can also use it while going a few days of not washing, to help things smell fresh.
Is hair perfume good for your hair? Yes! If you get these mists made especially for hair, they should not be damaging or drying. A lot of the time, there are actually beneficial ingredients in them that help moisturize the hair, and give it shine!
Read more blog posts about hair care here!
Best, Mia