Do you have dry, rough, & cracked heels? Fortunately, there is an easy remedy but it's a little unusual! In this blog post, I explain how to use The Ordinary's Glycolic Acid Solution to get soft, smooth heels fast! You won't believe how well it works!

Disclosure: This blog post contains affiliate links, which means I make a small commission on a purchase without an additional cost to you if you buy something through the link.
How Do I Stop My Heels From Cracking?
Have you noticed your heels are looking a little neglected? Try this easy routine before you need to wear sandals this summer. I use The Ordinary Glycolic Acid to exfoliate and get rid of the dry, dead skin on my heels. I find that this is even more effective when combined with using a pumice stone and moisturizer.
TO Glycolic Acid Solution is such a miracle product … check out how you can use it to get rid of dark armpits as well here! Read More: How To Get Rid Of Dark Armpits FAST with The Ordinary Toner
Cracked Heels Home Remedy
Here are some easy tips to incorporate after a shower or before bed.
Apply the solution with a cotton ball to the heels, and then let it dry. Be sure to moisturize after with your favorite lotion.
Routine To Fix Cracked Heels
This routine works even more effectively to get the softest heels fast:
1. Use a Pumice Stone
While in the shower or just when you have time, use a pumice stone on your heels. Scrub them and then wash off the dead skin. Then pat dry the foot.
2. The Ordinary Glycolic Acid 7%
As mentioned above, apply some of the solution to a cotton ball and then apply it to the heels. This helps exfoliate the skin and goes further than the pumice stone to get rid of the deeper layers of dead skin.
3. Apply Lotion
Once the solution has dried, then apply your favorite lotion to add more moisture back into the skin.
4. Wear Socks Overnight
A great trick to get soft heels overnight is to slather lotion on the feet, then wear socks to bed! The lotion will last longer and melt into the skin from body heat.
By following these steps you'll get smooth, baby soft heels fast! Give it a week depending on the severity of your feet, but you'll see results quickly!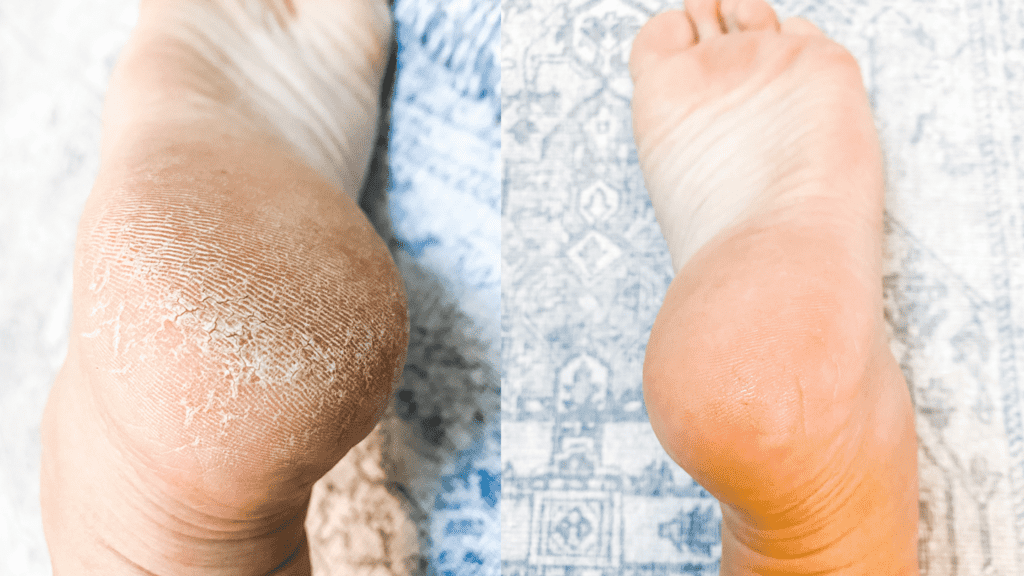 Related: Do you have pinky toenails that split, or a double toenail? Learn the best way to treat it here! Got Toenails That Split? How To Fix Double Toenail On Pinky [Accessory Toenail]
What Causes Dry Cracked Heels?
Let's also learn what causes dry cracked heels so you can try to prevent it as well in the future.
Standing
If have a job where you stand all day, for long periods of time, this can contribute to cracked heels. Furthermore, on hard flooring, your weight and the pressure of standing on a hard surface cause the heel to expand outward. This puts stress on the heels and cracks the skin.
Flat Feet
If you have flat feet, heel spurs, it is the same as what was mentioned above. Your weight it distributed unevenly through the foot and can cause cracks in the heel.
Dry Weather
This tip may seem obvious, but it has to be mentioned. Dry weather can really affect your heels just like it does for the rest of your skin. If you are neglecting your heels or forget to put lotion on your feet, this can add up to create super dry, cracked heels.
Athlete's Foot
Many people believe that they have cracked, dry heels from the issues mentioned above. But, sometimes it's Athlete's foot fungus that is causing the problem.
If the infection spreads across the sole of the foot it is referred to as moccasin athlete's foot. The soles of the feet, the heels and the edges of the feet are then dry, scaly and may be itchy.

NCBI
If this is the case, you'll need to treat Athlete's foot with readily available creams, gels, or sprays to kill the fungus. That will most likely help the dry, cracked looking heels.
Medical Conditions
According to this website, certain conditions like obesity, diabetes, eczema, hypothyroidism, Sjögren's syndrome, juvenile plantar dermatosis can contribute to dry cracked heels.
Cracked Heels In Pregnancy
According to NCBI:
Studies examining the use of glycolic acid in human pregnancy have not been conducted; however, using topical glycolic acid during pregnancy should not be of concern, as only a minimal amount is expected to be absorbed systemically.
I have used glycolic acid solution during my pregnancy for my heels, but sparingly. I make sure to use products that are 10% strength and under only. Using this routine is a great remedy for dry feet during pregnancy too!
Using Glycolic Acid To Treat Dry, Cracked Heels
I hope you enjoyed learning more about my favorite way to get soft heels fast. Glycolic acid seems unusual to put on your heels, but when you look at lots of expensive foot creams and kits you'll find that this ingredient is what they use.
Glycolic acid is a multi-purpose, multi-tasking beauty staple to have in your routine. Learn the other ways I use it all over my body!
Best, Mia
This content is for informational purposes only, and what has worked for me personally based on my own opinions. I am not a professional/medical doctor, and you should always consult your doctor or dermatologist on what will work best for you. The information presented here is not legitimate, official advice from a professional. If you choose to rely on any information from this blog, you do so at your own risk. Please refer to the "Blog Disclaimer" tab in the menu bar to read more information and the official disclaimer statement.