Do you ever feel overwhelmed with skincare? There are so many products available, ingredients to use, and brands to try out.
Sometimes, it may feel difficult to pick out what exactly you need. The cost of always buying new, different items also can be an issue for those on a budget. And in my experience, I hated that I would feel a sense of dissatisfaction if I didn't have ALL the shiny, pretty products I saw influencers use in my skincare cabinet.
If that is you too, here is my less is more, simple skincare routine. It should be great for all skin types!
Scroll down to the end of the page to see the products I use in my daily skincare routine. Otherwise, keep reading to learn why a simple routine might be best for you.
To start, I will first share a few reasons below about why you should make the swap for a less is more skincare routine. Of course, everyone is different – some may enjoy a multi-step skincare routine as their time to themselves. But, if you have been feeling like paring down lately, here are some good points to consider.
Why Should I Have A Simple Skincare Routine?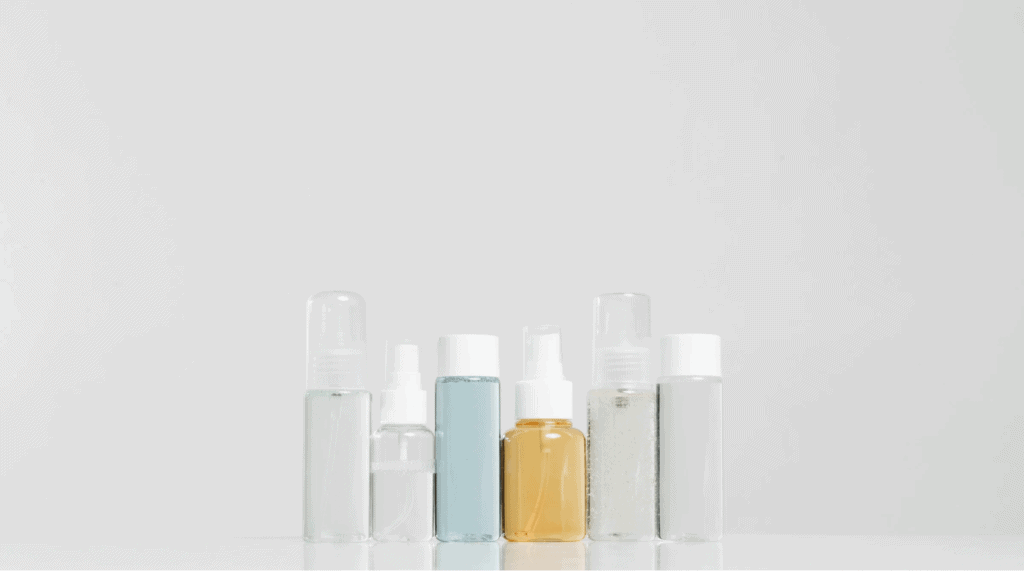 What are the benefits of a simple skincare routine? Let's begin with the advantages of "skinmalism":
Affordability
Remember when "shelfies" were a big deal? I am glad that we have come a long way since then. Seeing other people with a full shelf of serums, bottles, and tools makes you feel like you need to have it all to have pretty skin. You might feel dismayed that you can't spend a ton of money on all those products too.
While there are a lot of cheaper skincare brands out there, having multiple steps and products in your skincare routine can add up. This might not be realistic for those on a budget, or young people.
Not to mention that a lot of the popular products or fads on social media are made up of more luxe brands.
I have found that it is possible to have a routine that is minimal and inexpensive, but effective.
Less Waste
Going back to the "shelfie" – not only does it signify a lot of money spent on skincare, it also represents a lot of waste.
If you have tons and tons of products in your arsenal, it is probably unlikely that you can use it all up by its allotted expiration date.
If you have 5 different bottles of moisturizer that need to be used within 6 months, it might be super hard to incorporate them into your everyday life.
This leads to a lot of half used items that end up in the landfill.
Keeping up with having a fully stocked skincare cabinet might lead you to not feel satisfied with what you already have. The feeling of needing more and more contributes to a cycle of consumerism.
Avoid that by sticking with "skinmalism". It is great for the earth and for not feeling guilty about throwing out products you never used.
Less Ingredient Interactions
As I said before, sometimes skincare can be confusing. There are a lot of "actives" and ingredients that you can use for various skin issues. Not only is it tricky trying to figure out what exactly the item needs to be used for, but you also have to make sure you aren't going to have an interaction with another product you have in your routine.
Mixing ingredients that shouldn't be mixed obviously could lead to irritation of the skin or damage.
Sticking to a simple skincare routine, usually with one "active" is a surefire way to make sure you won't have product interactions. It might also be less harsh on the skin.
Definition of active: An active is the ingredient in a product addressing whatever skin concern it's meant to target. – Self Magazine
Examples: vitamin a, vitamin c, kojic acid, AHAs, retinoids, etc.
Time
Sometimes, people don't have a lot of time in the mornings or at night for a long winded skincare routine. A quick wash, application of serum, and moisturize might be a better fit in your busy lifestyle. You don't have to work so hard for pretty skin!
My Skinmalism Simple Skincare Routine
So, here is my less is more, simple skincare routine!
Click through for products, as well as some thoughts on each and why I have chosen them.
Face Wash:

Sometimes, it is handy to have a micellar water or wipes on hand to get the bulk of your makeup off. I do this occasionally, but often I would rather reach for my face wash. I personally don't put much emphasis on my face wash. I go for either of these simple CeraVe face washes mostly because of the lather.
I am a heavy foundation/makeup wearer, and I want something that will really clean my face. It easily breaks down makeup, and I find I don't have to use a cotton pad/micellar water to get everything off.
I hate when other facewashes feel like you have to use a TON to really remove the makeup.
This is a staple piece in my routine, and it also comes in other varieties – which means there has got to be one suitable for you!
Serum

On to the next step! After washing, I apply Vitamin C serum to my damp face. It absorbs better this way! Vitamin C serum is a great option for lots of different skin types. It brightens and helps fine lines, as well as turns over the skin. It does everything you need it to for clear and glowing skin. Dermatologists say it is okay to use during pregnancy too.
This specific serum from Mad Hippie is a gentler, non irritating version of Vitamin C, and one that is great for acne prone skin too.
Currently, I am breastfeeding and need to use Vitamin C as a nursing safe option. When I am finished though, I will switch to retinol as it really kicks up the skin perfecting power up a notch!
Moisturizer

Back to CeraVe – I've been using this moisturizer since I was on Accutane almost 12 years ago. It really gives your skin the feeling of completely quenching any dryness. You'll never have dry flaky skin again!
Rosehip Oil

I love rose hip oil so much! I use it after applying moisturizer to lock everything in. Rosehip is another great regenerative oil. It helps keep the skin hydrated and can help acne. I also believe it has helped get rid of my blackheads.
Lip Mask

I have to finish with something on my lips as my lips get so dry overnight.
Read More: I Still Have Dry Lips From Accutane … 12 Years Later
Everything I've share so far is what I use a night. For the mornings, I usually just stick with face wash, moisturizer and sunscreen.
Occasionally:
Sunscreen, The Ordinary Peeling Mask, Face Roller

These products are what I have been going back to. I will probably always stick with these simple "actives", but try different brands of each in the future. I think this is less complicated not having to worry about interactions, or wondering if you need to try out a billion different actives/serums.
I hope you enjoy and let me know if you are into a simpler skincare routine these days too!
Best, Mia
This content is for informational purposes only, and what has worked for me personally based on my own opinions. I am not a professional/medical doctor, and you should always consult your doctor or dermatologist on what will work best for you. The information presented here is not legitimate, official advice from a professional. If you choose to rely on any information from this blog, you do so at your own risk. Please refer to the "Blog Disclaimer" tab in the menu bar to read more information and the official disclaimer statement.