Vitamin C will always be a staple in skincare. Using a vitamin c serum was my "gateway drug" that turned me into a skincare junkie! After trying multiple serums, I landed on the Mad Hippie Vitamin C Serum. I'm not lying when I say it is of great quality, effective, and an affordable option!
This review explains why you need to add it to your routine ASAP. If you are pregnant, have acne, or want glowing skin – this product is for you!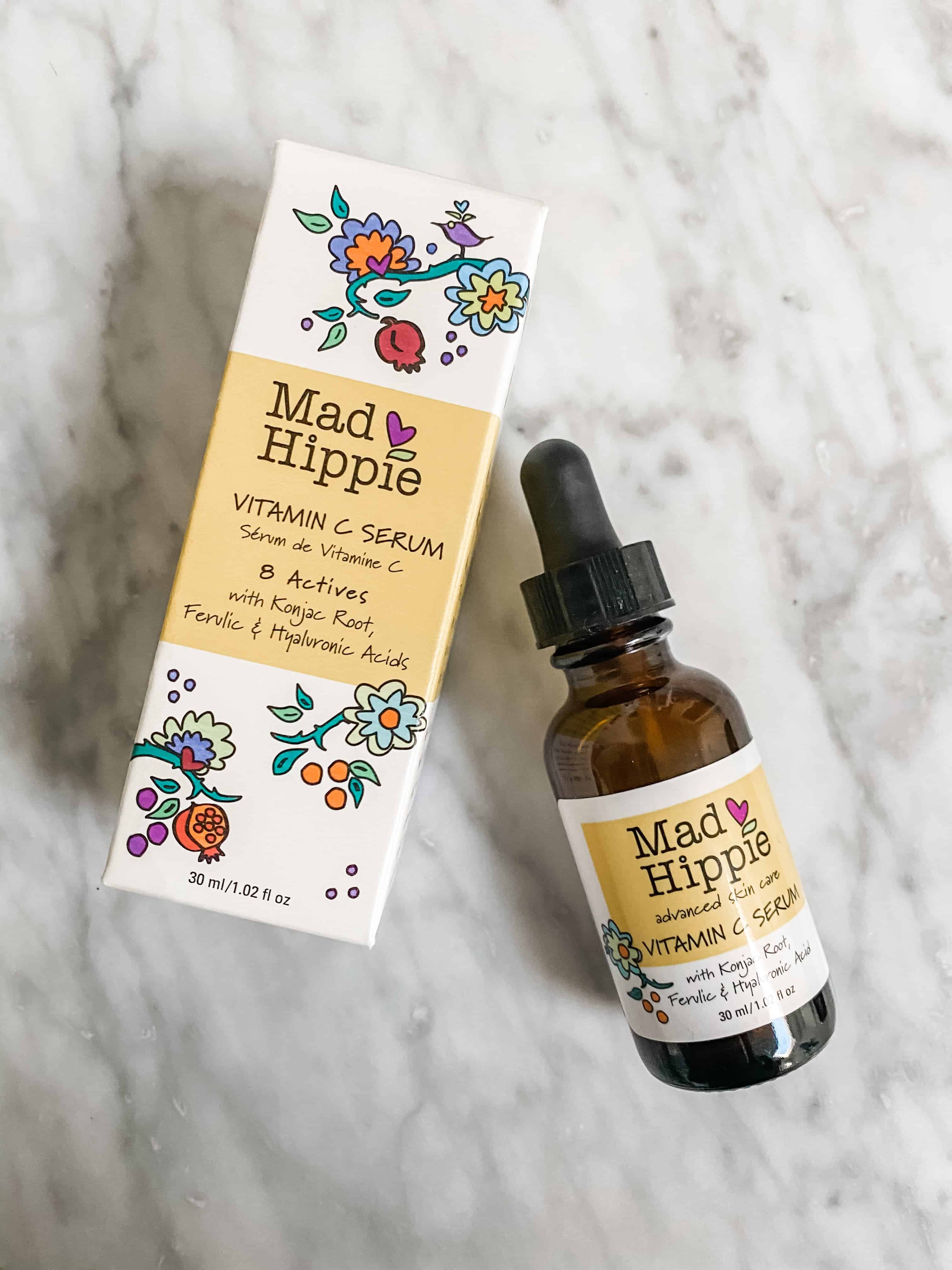 Mad Hippie Vitamin C Serum Review
My Experience
I'll quickly give you an overview of my experience using the serum here. Keep reading for the rest of my personal opinion on the product.
Otherwise, jump down a few paragraphs. I'll explain the science behind the ingredients in the serum and how it sets itself apart from other vitamin c products.
This is where you'll see how it can benefit YOU!
Overall, the serum has been wonderful to add to my skincare routine. I am currently pregnant and have been dealing with acne and tired looking skin.
Since I can't use my typical retinoids I wanted to switch to something I know has benefitted me in the past. I was using the Makeup Revolution Vitamin C serum but found it to be too harsh for my skin.
The Mad Hippie Vitamin C Serum was the perfect alternative to try. I find it to have a light, slightly floral smell that dissipates after it sinks in. The serum didn't irritate my skin – you'll learn the reason why below. (It makes a lot of sense!) Instead, it left me glowing and able to soften my fine lines, textured skin, as well as PIE marks from old breakouts.
I highly recommend it especially since it is a clean product. Plus, it is only $33 at Ulta! This serum is affordable without sacrificing efficiency.

Mad Hippie Vitamin C Serum Ingredients
After testing out this serum and noticing great results, I decided to do a bit more research into what specific ingredients the serum contains.
Here is why the serum is so great: these high quality ingredients!
Vitamin C (Sodium Ascorbyl Phosphate)
I was surprised to learn that not all vitamin c serums contain the same type of vitamin c. We all know that this active is so useful because it combats fine lines and discoloration.
What sets the Mad Hippie Vitamin C Serum apart though, is that it uses a form of vitamin c called Sodium Ascorbyl Phosphate. According to Mad Hippie's website it is:
"…a more stable form of Vitamin C than the commonly used L-Ascorbic Acid found in most skin care products, provides the same benefits, without the risk of oxidation and irritation that is often associated with L-Ascorbic Acid."
This explains why my skin reacted so much better to this serum! The form of vitamin c is gentler and caused me less irritation.
There is also evidence that Sodium Ascorbyl Phosphate works better to treat acne-prone skin. It has a strong antimicrobial effect that kills the p. acnes bacteria that causes breakouts. 1
If you are dealing with acne, consider this Mad Hippie Vitamin C serum to help get it under control. Or, if you have sensitive skin, this form of vitamin c can help you!
Ferulic Acid & Vitamin C
Vitamin E has been shown to reduce the appearance of wrinkles and discoloration as well. Pair it with ferulic acid, and this antioxidant effect is compounded!
This is why this serum is great to use in the morning as the antioxidants can protect your skin from further sun damage.
If you have always wanted to try the Skinceuticals C E Ferulic Acid Serum, you'll be happy to see this Mad Hippie Vitamin C has the combination too! (Without the expensive price tag!)
Hyaluronic Acid
Hyaluronic acid is something that our skin needs to keep it looking plump and young. It is naturally made in the body, but of course, as we age it declines.
Having this ingredient in the serum helped save my dull and old looking skin.
Other Ingredients
Konjac root, chamomille extract, and clary sage are other ingredients added to this serum.
Konjac Root – Exotic flower from Asia, helps to soften & smooth the skin while forming a thin protective barrier. Rich in nutrients such as copper, zinc, phosphorus, fatty acids, protein, carbohydrates, lipids, potassium, magnesium, iron, niacin, folic acid & vitamins A, E, C, D & B!"
Chamomile Extract – Provides a thin protective shield, while naturally soothing and calming the skin.
Clary Sage – Helps eliminate overly-dry or overly-oily skin. Acts as natural toner & astringent.
Mad Hippie Vitamin C Serum For Oily Skin
If you have acne prone or oily skin, this serum will benefit you greatly! The form of vitamin c included as well as the other ingredients all work together to balance the skin.
How To Use Mad Hippie Vitamin C Serum
Here is how I use the Mad Hippie serum:
Morning and night after cleansing, I massage a dime-size amount into the skin. I make sure that my skin is slightly damp because this serum contains hyaluronic acid. (If you use hyaluronic acid on dry skin, it can actually dry out the skin more!)
The consistency of the Mad Hippie Vitamin C Serum is thin and gel like. It also has a cloudy, pale straw color to it, and according to the brand's website this is normal. This is due to the natural plant extracts it contains.
As I massage it in, it eventually gets absorbed and turns a matte texture. It is somewhat hydrating but I also use a face oil and moisturize after.
I wear it under sunscreen and makeup, and find that the matte drying effect doesn't pill. It isn't noticeable either!
Mad Hippie Vitamin C Serum Before and After
Mad Hippie Vitamin C Serum Pregnancy
As mentioned before, I chose to use this safe Vitamin C serum while pregnant to help with my acne and dull skin. It has helped me and restored my confidence from pregnancy acne breakouts. Here are my before and after pictures: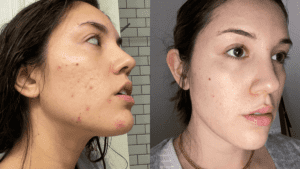 Where To Buy Mad Hippie Vitamin C Serum
You can buy the Mad Hippie Vitamin C Serum at Ulta, Mad Hippie, Kroger.
Please let me know your thoughts if you try out this affordable and effective serum!
Best, Mia
Citations:
Klock, J et al. "Sodium ascorbyl phosphate shows in vitro and in vivo efficacy in the prevention and treatment of acne vulgaris." International journal of cosmetic science vol. 27,3 (2005): 171-6. doi:10.1111/j.1467-2494.2005.00263.
This content is for informational purposes only, and what has worked for me personally based on my own opinions. I am not a professional/medical doctor, and you should always consult your doctor or dermatologist on what will work best for you. The information presented here is not legitimate, official advice from a professional. If you choose to rely on any information from this blog, you do so at your own risk. Please refer to the "Blog Disclaimer" tab in the menu bar to read more information and the official disclaimer statement.