While I was pregnant, I developed a dark line that ran from the top of my stomach, through the belly button to below the panty line. This line is called the linea nigra! While it is common, I thought it was very unsightly. In this blog post, I share the 3 ways I got rid of linea nigra and got my tummy looking normal again.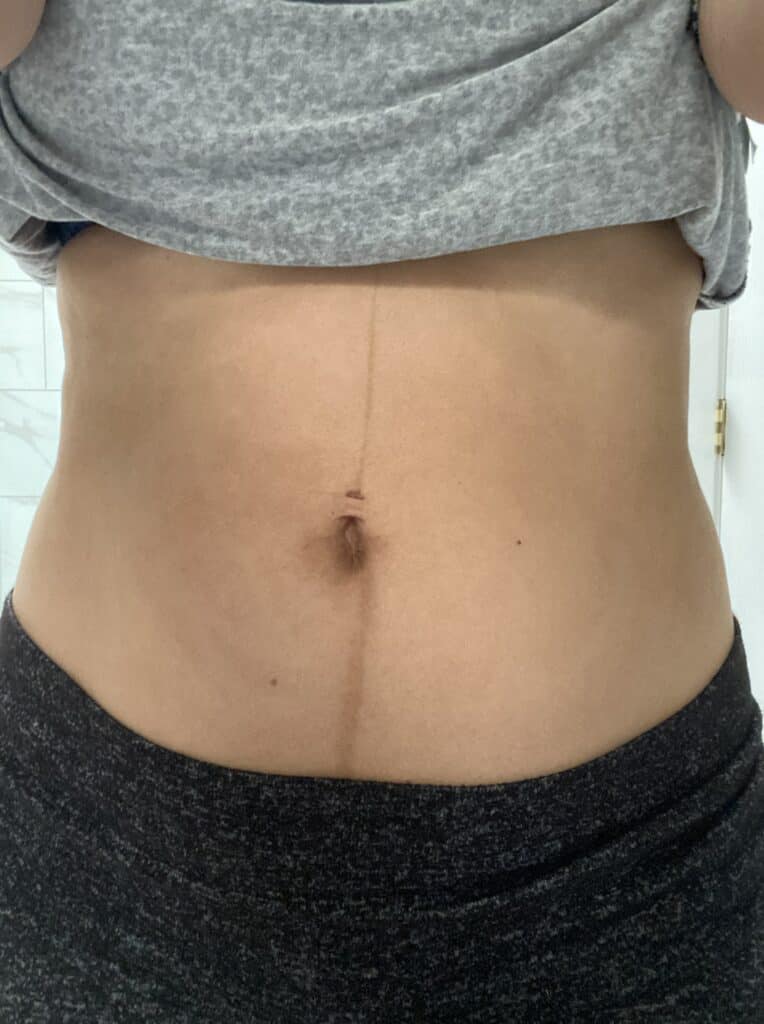 What Is Linea Nigra ?
From BabyCenter: Linea Nigra is a dark vertical line that appears on your belly during pregnancy. It is Latin for "dark line".
What Causes Linea Nigra?
It usually forms due to all the extra hormones from pregnancy which cause the skin to get darker. (Which explains why moles, freckles, and melasma can be issues during pregnancy.)
Typically it will be more noticeable on women with darker skin. Usually, it starts to appear halfway through pregnancy as well. There is a white line (linea alba) that runs from our belly button to below the panty line that typically isn't noticeable, but as mentioned above, the hormones darken it and make it more noticeable.
Can You Avoid Getting Linea Nigra?
Unfortunately, you cannot. It is connected to how hormones work in the body during pregnancy so there isn't much you can do to control it or prevent it. It should also be pointed out that because of this, you probably will have to wait until AFTER pregnancy to get rid of it completely.
That being said, is there anything you can do to make it go away faster? Read below for some options that may work for you!
How To Get Rid Of Linea Nigra After Pregnancy
If this skin concern has shown up during your pregnancy, you maybe be wanting to get rid of it. Just know that it should fade on its own without any interventions. But you can try certain things to help fade the line faster.
For a personal example, I have a medium skin tone and my darker linea nigra disappeared by one year post-first pregnancy when I did nothing to it.
What Can I Do To Get Rid Of Linea Nigra?
You can try to treat the line like you would for discoloration or uneven tone on the face. Exfoliating and using some actives might be the best option to get the belly area looking back to normal.
Just be sure to wait until after you are pregnant so the hormones subside, and to ask your doctor about which products are safe for nursing if you are doing that as well. Last, remember that if you exfoliate or use actives on your skin, use sunscreen when you are outside! Exposing fresh skin makes it more susceptible to sun damage if you do not protect it.
Products For Linea Nigra
Exfoliators
Start with just a sugar and olive oil scrub to get rid of dead skin cells. Of course, you can also buy scrubs if that is a more convenient option for you. This will reveal brighter, more even-toned skin. Here are some options that will create an instant spa experience!

Rosehip Oil
If you read any of my other skincare posts, you'll know that I love rosehip oil! It is so versatile – I use it on my face and body. It gently exfoliates your skin while leaving it glowy and healthy. You can also use it on linea nigra. I used it while pregnant as well to help prevent stretch marks too!

Read More: Rosehip Oil For Face: Rosehip Oil Benefits + 5 Affordable Options
Body Lotion
Use a body lotion with actives in it! I have linked some options that contain glycolic acid and other actives to help speed the turnover of the cells. Just be cautious if you are nursing – some ingredients like retinol shouldn't be used as it can be transferred through breastmilk.

When Does Linea Nigra Go Away?
Typically, it is said that linea nigra will go away within 6 months after birth. This was not my case, it usually takes me a year for the line to disappear. I do have a tan skin tone though. Everybody will react differently, but luckily there are things you can do to try to speed it up.
And as a reminder, always check with your doctor before adding skincare products into the routine while pregnant or nursing.
Are you pregnant and want more pregnancy-related skincare? Check out these blog posts:
Best, Mia
This content is for informational purposes only, and what has worked for me personally based on my own opinions. I am not a professional/medical doctor, and you should always consult your doctor or dermatologist on what will work best for you. The information presented here is not legitimate, official advice from a professional. If you choose to rely on any information from this blog, you do so at your own risk. Please refer to the "Blog Disclaimer" tab in the menu bar to read more information and the official disclaimer statement.