Mac "Whirl" is a classic dusty rose lipstick & liner hue that everyone should have in their beauty bag. Both are pretty pricey though at $21 each. Luckily, this iconic shade has been duplicated by many drugstore brands so you can get the look for less! Here are affordable lipstick and liner Mac Whirl Dupes to try instead.
Disclosure: This blog post contains affiliate links, which means I make a small commission on a purchase without an additional cost to you if you buy something through the link.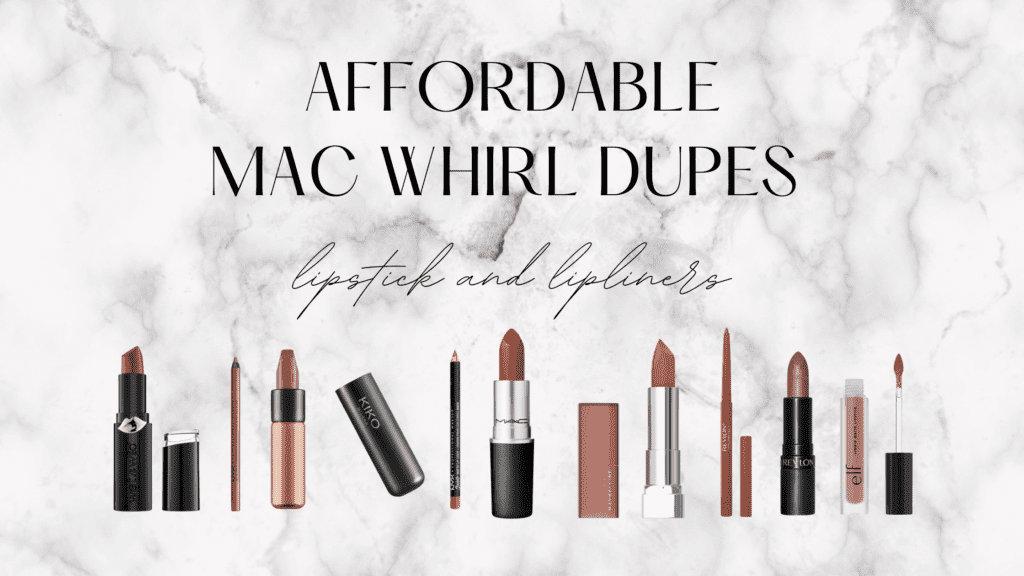 Mac Lipstick Matte in Whirl
Let's quickly recap what makes "Whirl" such a popular shade. Keep scrolling for both the best lipstick and liner dupes

It is a pinky-brown hue that really works on every skin tone due to the undertones that naturally occur in the skin. Mac Whirl is a warm-toned pink that also has a matte finish. Mac describes it as a "dirty rose" color. This shade has been around for almost 8 years now, and quickly became one of the most popular in the Mac range! This means that lots of drugstore brands will want to replicate it.
Mac Whirl Lipstick Drugstore Dupes
Without further ado, let's jump into super similar options to Whirl that you can pick up on your next grocery run!
At $6.99, this Maybelline Mac Whirl Dupe is a no-brainer to try! It contains moisturizing oils that will give you a matte finish, without drying out the lips. You can really see how the brown undertones look similar to Whirl!

I love that matte lipsticks have come a long way, just like this one from WnW! It nourishes lips while providing high-coverage pigment, and makes it comfortable to wear. It is also a steal at only $2.19 at Target!

This is a little different from the Mac lipstick in a tube, as it is liquid lipstick. These tend to be a little drying, so if you are prone to chapped lips you might want to steer clear. Otherwise, the color is identical! $4 at Walmart.

This is a great European brand that can be found at Ulta. It is on the pricer end of the dupes today at $12.99. Still, the sleek packaging, creamy matte finish, and identical rosy brown hue makes it so similar to the Mac Whirl lipstick.


Mac Whirl Liner Drugstore Dupes
Now let's list the best dupes you can find for the Whirl lipliner.

This lip liner glides on easily, is clean & cruelty-free, leaves a rich matte pigment, and is only $7.99 at Target!

Sephora's answer to Mac Whirl Lip Pencil is only $6, and the perfect size to take with you on the go!

You can't beat NYX pricing, because you will get a full-size lip pencil for only $4 at Target! You can stock up on this Mac Whirl dupe for cheap.

How awesome is the built-in sharpener? This makes it the pricier Mac Whirl lip liner dupe, but honestly, it is worth it for the wear, the color, and the sharpener that will make your routine a bit easier.

If you are looking for more great high end makeup dupes, be sure to check out these blog posts!
Best, Mia