Charlotte Tilbury has me in a chokehold – I love the glamorous vibe of this brand! Celebs and everyday people alike rave about classics such as Pillow Talk lipstick and the Hollywood Flawless Filter primer. But when it comes to a water-based spray to set makeup with – should you really spend almost $40 on it? If you want to save the money, here are the best Charlotte Tilbury Setting Spray dupes that work just as well.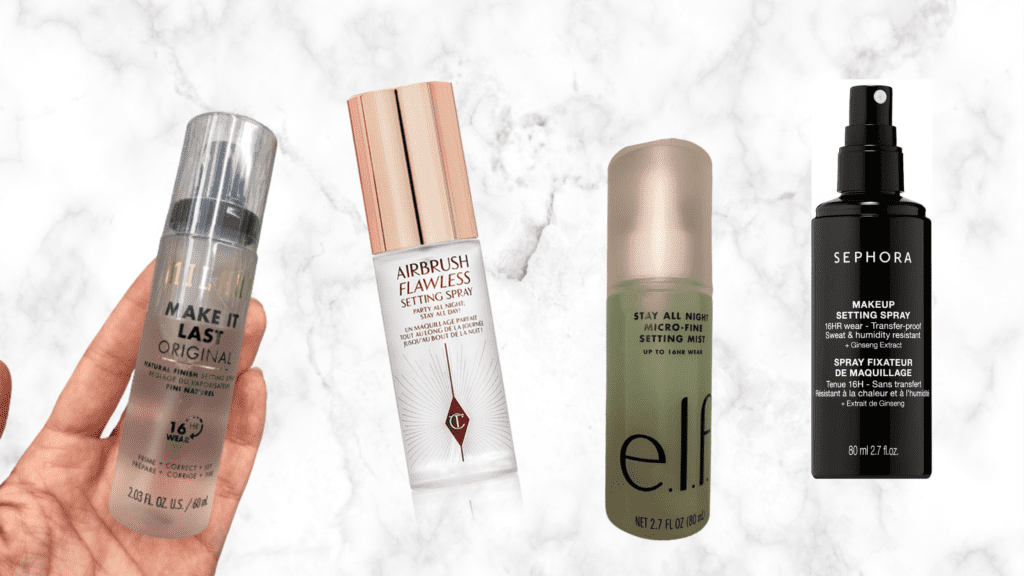 Disclosure: This blog post contains affiliate links, which means I make a small commission on a purchase if you buy something through the link – without an additional cost to you.
Charlotte Tilbury Setting Spray
Let's dive deeper into what makes the Charlotte Tilbury Setting Spray so popular, and why people pay so much for it! That way we know what our dupes need to do as well.
First, it's well known that one of the reasons why high-end products are so expensive is the packaging. I can't lie, Charlotte Tilbury's packaging is very luxe as I said above. So, in my opinion, the CT Setting Spray would be worth the money if that aesthetic makes you happy, or if you like to display your makeup.
Second, here are some of the key ingredients of the Charlotte Tilbury Setting Spray:
"Flawless Film Formers" – act as an invisible shield to set makeup, and prevent it from creasing, settling into lines, or separating.
Japanese Green Tea Extracts – helps make the skin feel softer and more hydrated.
Aloe Vera – contains vitamins and minerals that CT claims will leave the skin feeling smooth and supple.
Aromatic Resin – this is a resin from the bark of a Greek tree that is supposed to keep the pores clear.
What Does The Charlotte Tilbury Setting Spray Do?
Basically, all of these ingredients work together to prime and lock in your makeup look for 16 hours. Users are said to feel like they have a "weightless veil" that sets the makeup, making it look like it was just applied even after hours of wear!
The spray also contains ingredients that blur, perfect, and enhance the skin as the perfect final touch to your look. Plus, it is supposed to leave a matte finish rather than a dewy/glowy one.
Last, there is a fresh floral scent to the Charlotte Tilbury Setting Spray that some people either love or hate.
Charlotte Tilbury Airbrush Flawless Setting Spray Dupes
Let's find the closest alternatives to this setting spray!
Makeup Revolution Conceal & Define Infinite Mattifying Longwear Makeup Fixing Spray
While definitely a mouthful to say, Makeup Revolution's setting spray is a close match to CT's for many reasons.
Both products contain same amount of setting spray (100 ml)
Both contain Aloe Vera extracts
Both have 16 hour wear
Sleek packaging
Cruelty-free
Here is how the Makeup Revolution Conceal & Define Setting Spray differs from Charlotte Tilbury's:
The nozzle sprays a very strong mist, and can almost cause makeup to run if you over do it
There is a very strong, heavy fragrance that doesn't smell the best
High % of alcohol denat. (2nd listed ingredient)
$10 at Ulta
Overall, this spray is supposed to be a very close dupe for CT but won't completely keep you matte/transfer-proof at the end of the day. A big point to consider is that alcohol denat. is the second ingredient on the list for the Makeup Revolution Setting Spray. This can be very drying to some. The Charlotte Tilbury Setting Spray mentions it is alcohol free.
e.l.f. Cosmetics Stay All Night Micro-Fine Setting Mist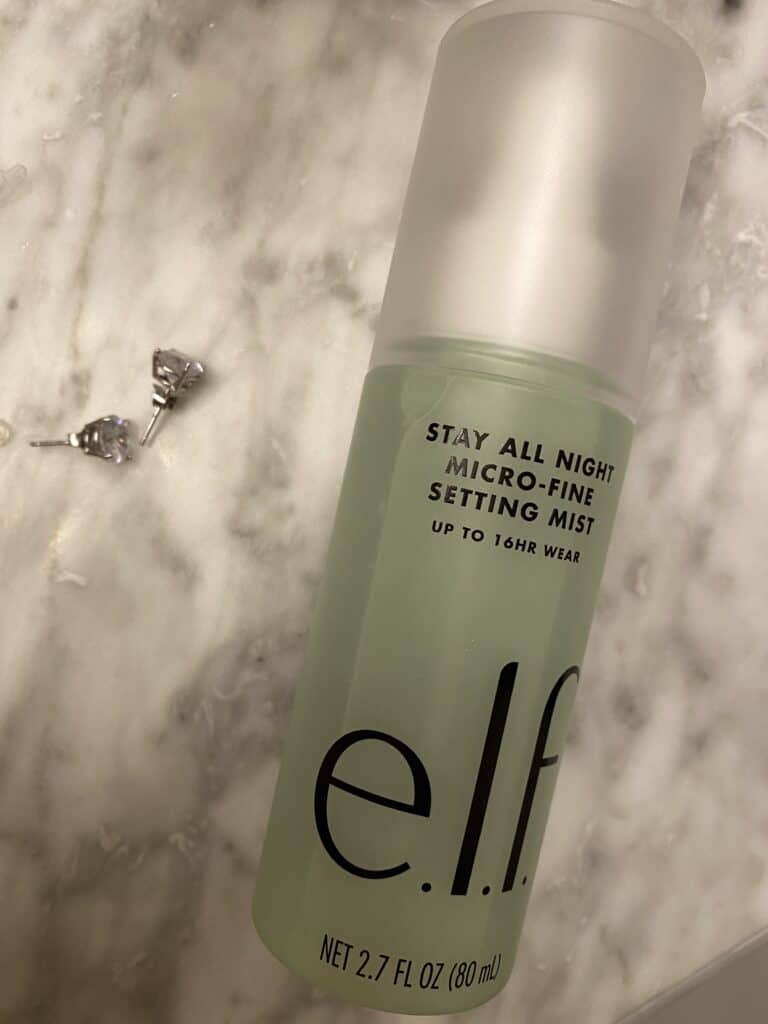 e.l.f. comes out with lots of must-have, viral makeup! Despite being a very inexpensive drugstore brand, they really work hard to create great products & dupes everyone can afford. The e.l.f. Stay All Night Micro-Fine Setting Mist is similar to CT in these ways:
Specialized nozzle similar to Charlotte Tilbury's for a very fine mist
Both have Aloe Extract to help hydrate and soothe the skin
Both are paraben & sulfate-free
Both have 16 hour wear
Light and fresh scent
Here is what makes the Stay All Night Setting Mist different from Charlotte Tilbury's:
The e.l.f. spray contains less product, 80 ml bottle
Nozzle can clog for some, hasn't happened for me
Again, alcohol denat. is 2nd listed ingredient
Lime green packaging
$10 at Ulta
If avoiding parabens and sulfates is important to you, I believe that this e.l.f. Stay All Night Micro-Fine Setting Mist will be your favorite dupe!
Sephora All Day Makeup Setting Spray
I discovered this Charlotte Tilbury dupe on TikTok. It is said to be another great option that will make your makeup look just as great as if you were using the more expensive CT Setting Spray. Here are the similarities:
Both have 16 hour wear
Both are clean products
Here is why you might not want to get the Sephora All Day Makeup Setting Spray over Charlotte Tilbury's:
Sadly, it doesn't clearly say that their product is cruelty free so we have to assume it is not
Ginseng extract is the main ingredient which is still hydrating but not aloe extract
Strong alcohol smell (2nd listed ingredient is alcohol denat., like the other dupes)
$13 at Sephora
Want more high end makeup dupes? Check out these blog posts:
Milani Make It Last Setting Spray, Prime + Correct + Set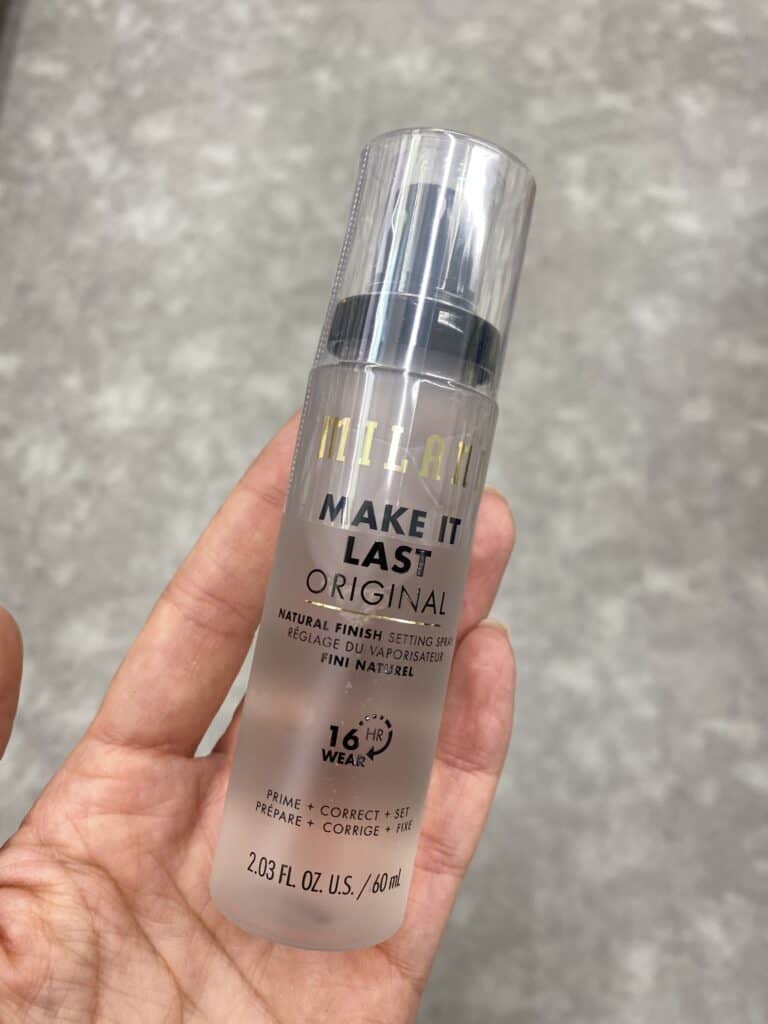 Milani is a drugstore brand that still has a very glam look to it. Their Make It Last setting spray looks very sleek, and if you have seen their lipsticks, they look luxe too! I think this brand has the same type of vibe just on a budget. The Milani Make It Last Setting Spray has really only a few things in common with Charlotte's spray though:
Both are cruelty free
Both 16 hour wear
Sleek Packaging
While it is considered a dupe there are some noticeable differences that set the two sprays apart:
60 ml bottle. This makes it the smallest amount of product out of all the dupes
Leaves a more of a glowy finish vs matte
No similar ingredient extracts
Final Thoughts on Charlotte Tilbury Setting Spray Dupes:
After comparing these alternatives to the real thing, I think the best dupe for Charlotte Tilbury Setting Spray is e.l.f. Cosmetics Stay All Night Micro-Fine Setting Mist! The fine spray mist is very similar, the smell isn't too overpowering, and it has the closest ingredients and wear length to the original. Plus, the Charlotte Tilbury spray doesn't have SLS sulfates, formaldehyde, phalates, etc. just like the e.l.f. option!
Save your money and try out this dupe for only $10!
Do You Use Setting Spray Before or After Your Makeup?
You use it after doing your makeup to keep everything in place!
Is Charlotte Tilbury Setting Spray Good for Oily Skin?
Yes! The point of setting spray is to help keep makeup from fading, or sliding around on the face. This can sometimes happen to those with oily skin. Using a spray, just like the Charlotte Tilbury Setting Spray or the dupes mentioned here, actually leaves a matte finish so it is great for combatting oil and shine.
Best, Mia