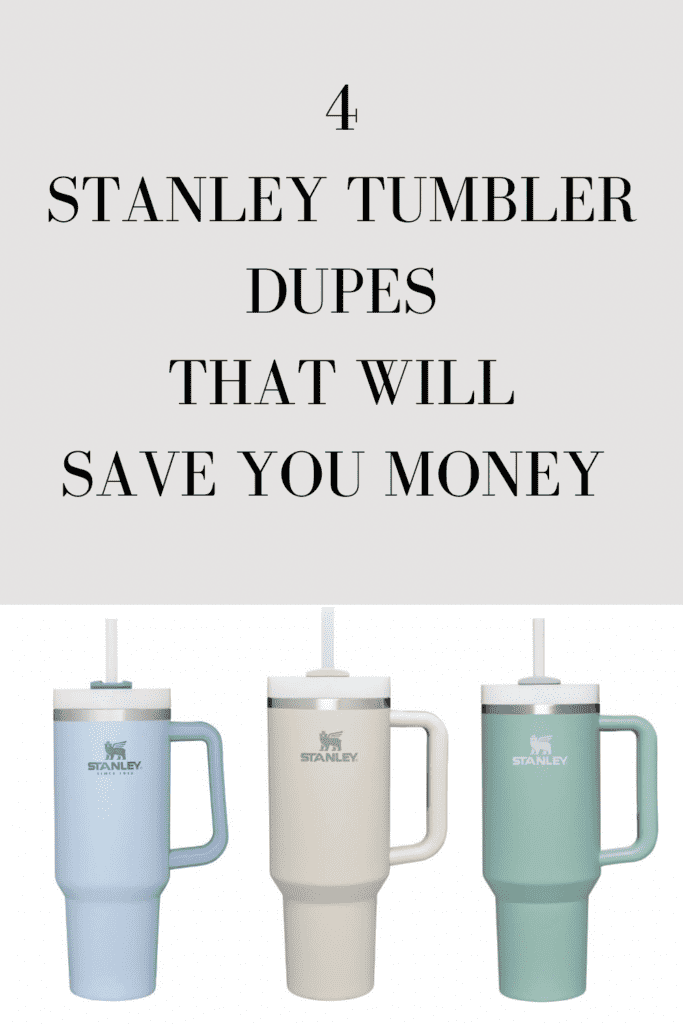 I love my Stanley tumbler so much and wish I could add more to my collection. Unfortunately, the $50 price tag is high for a single cup and it's almost always sold out. Luckily, there are fantastic Stanley cup dupes that give the same look for less! Here are 4 options to consider if you would rather save money, or want to snag multiple colors for a low price.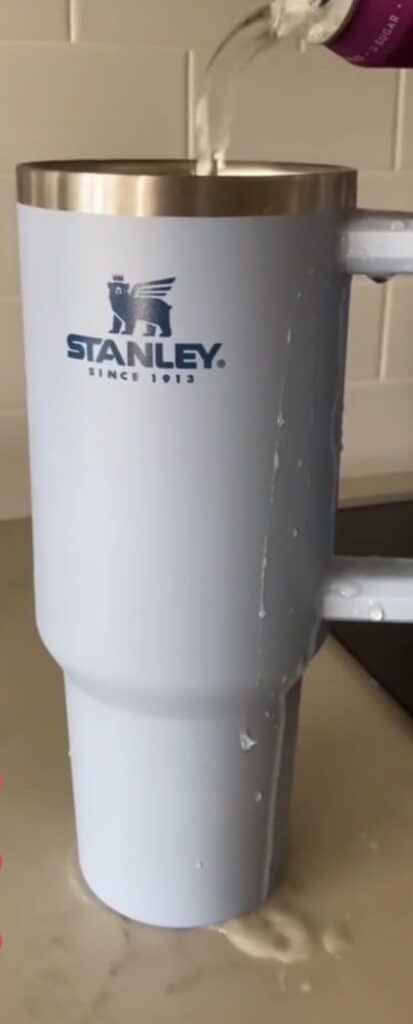 Disclosure: This blog post contains affiliate links, which means I make a small commission on a purchase without an additional cost to you if you buy something through the link.
Stanley Tumbler 40 oz Dupes
There are dupes for the Stanley tumbler with a handle, starting with the most aesthetically similar:
Simple Modern Trek Tumbler 40 oz
Simple Modern's 40 oz Tumbler has a handle just like the Stanley which is great for grabbing it on the go. The vacuum-insulated stainless steel is great for iced coffee, water, soda, or whatever you are drinking! There are 20 colorways to choose from, all in soft matte pastels (similar to Stanley) that make the tumblers look so luxe.

Reviews note that this cup is VERY leakproof – which can be an issue with the original Stanley tumbler. Order one today from Amazon for only $29!
Hydrapeak Roadster 40 oz Tumbler
Hydrapeak came out with another great answer to the Stanley tumbler. This design differs slightly in that the handle doesn't connect to the mug, but it still works great for being on the go. There are also lots of colors, and some are available in a "gloss" finish vs. Stanley's matte as another difference. It is supposed to keep your drink cold up to 34 hours, and is sweat proof. Snag this on Amazon for $24.95 right now as it's on major sale!

Hydrapeak's Voyager Stanley cup dupes can also be found at Marshalls for cheap – $16.99 if you stumble upon them at the store!
Reduce Cold 1 Mug 40 oz Tumbler
These seem to be made with the same idea in mind as the Stanley but differ in terms of looks. For one, Reduce uses a gloss finish and has a band around the top. But, that aside it will definitely help you up your daily intake of water as it has the same 40 oz capacity as the Stanley tumbler and keeps your drink cold for 34 hours.

The Reduce Cold 1 Mug is dishwasher-safe and cupholder friendly!
Practical Pours 40 oz Insulated Tumbler Mug with Handle
Wow, can you say identical?

It looks like this cup is an exact dupe for the Stanley. I am putting it last though, since it seems to be a small business and they are having trouble keeping everything stocked. I am not sure how they are allowed to exactly copy the Stanley design as well, but if you like this olive color you can purchase it from Amazon for $29.
Why Is The Stanley Tumbler So Popular?
The Stanley tumbler is popular with influencers and on TikTok…which means these Stanley tumblers are almost always sold out. Read The Buy Guide's "Story of the Cup" here. They basically introduced this cup to their following before it was all the rage, and their community went wild for it! This set things in motion for Stanley to take over social media as the "It" cup to have that wasn't just for camping anymore – the fun colors and size made it a staple for women to take along with them during their busy days.
What Stores Sell the Stanley Tumbler?
You can find Stanley 40 oz tumblers sold in Dicks Sporting Goods, REI, Golf Galaxy, Lowes(!), and Target. But, only when it is in stock. Apparently, 150k people are on the waitlist for these cups. When you see one available snag it while you can!
Love saving money? Check out these high-end makeup dupes to get the look for less!
Best, Mia